Donkeys to the rescue! - 10 years since Pakistan Earthquake
It was 10 years ago on 8th October at 8:52am that a 7.6 magnitude earthquake struck northern Pakistan. The earthquake struck an enormous part of NWFP (now Khyber Pakhtunkhawa province), taking the lives of 87,000 people and injuring another 140,000. Entire villages and towns were destroyed, leaving people without shelter, possessions, clothing or food. It was estimated that more than 580,000 animals were also killed in the disaster and thousands were injured and unable to work.
In the immediate aftermath of the quake the Brooke, a UK based charity helping working horses, donkeys and mules in developing countries, supported a 40-strong donkey train to deliver medical supplies, blankets and food along a 7 km treacherous mountainous route rising up to 8,000 ft. During the 13-day operation, 50 tonnes of supplies were delivered to desperate, needy people stranded high up in the mountains.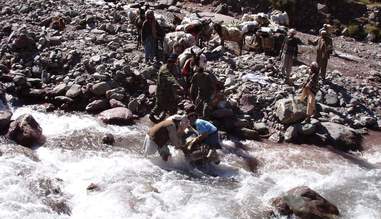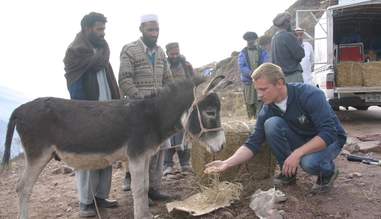 Celebrity vet Scott Miller visited the Brooke's work The Brooke also provided a unique emergency service to treat more than 50,000 injured animals for a range of problems, including lameness and multiple injuries caused by falling rubble and landslides, hypothermia from lack of shelter, stomach disorders, and lung infections including pneumonia. Over 14,000 animals were vaccinated against potentially fatal diseases. In addition, the Brooke provided basic first aid to injured people and distributed thousands of free sacks of concentrated animal feed.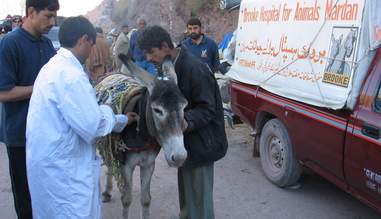 After the initial relief operation, as the focus of operations started to shift from survival to rebuilding, the Brooke once again took the lead and initiated a programme to rebuild damaged animal shelters, as well as continuing its veterinary treatment. As winter closed in, staff carried out an extensive survey of the area to determine the need for animal shelters. In collaboration with local communities and other relief organisations, the Brooke built over 350 winter-proof shelters for poor communities living high up in the mountains helping to shelter over 4,200 animals over the winter months.
In recognition of the Brooke's services in the earthquake zone, the President of Pakistan honoured the Brooke with a commendation certificate, and Brooke Trustees were invited to the presidency to thank them for the commendable job the Brooke had done to help tens of thousands of animals and the people who depended on them to restore their livelihoods.
Efforts and initiatives like these turn a big organisation into a great organisation, and I am proud to be a part of it.
Words by Ahmad Chaudhry, Information and Communication Officer for Brooke Pakistan