Donkey Who Was Dumped Like Trash Can't Stop Smiling Now
After Fernando injured his leg, the people who owned him drove him out to the middle of nowhere and dumped him.
This was the thanks he got after 20 years of grueling farm work.
Mino Valley Farm Sanctuary
You might think Fernando would have nothing to smile about. But a woman out walking her dog saw Fernando lying in a field and immediately called the people at Mino Valley Farm Sanctuary, who rushed to rescue him.
Now he lives with other rescued animals at the sanctuary in Spain.
And since his rescue Fernando has learned there's a brighter side of life. He's learned to trust people again, and he's gained a lot of new friends - human and animal.
Mino Valley Farm Sanctuary
No wonder he's all smiles.
Mino Valley Farm Sanctuary
"We believe that innocent animals like Fernando deserve our love and respect," Abigail Geer, cofounder of Mino Valley, told The Dodo.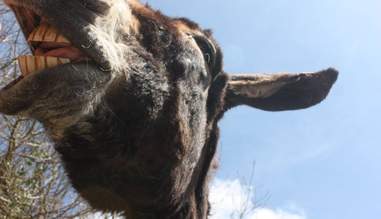 Mino Valley Farm Sanctuary
Mino Valley Farm Sanctuary
Mino Valley Farm Sanctuary