Bear Was So Lonely In Zoo That She Lost All Her Fur
She just went home to the forest, and was SO excited to see it again.
By the time Dominga was rescued from the zoo, she'd lost almost all of her fur.
"She just has one strip of hair on the back of her skull going down her back, a bit like a mohawk, with a little bit more hair on her back," Jan Creamer, president of Animal Defenders International (ADI), told The Dodo.
Considering what Dominga, a 14-year-old Peruvian spectacled bear, has been through, it's no wonder she lost her fur.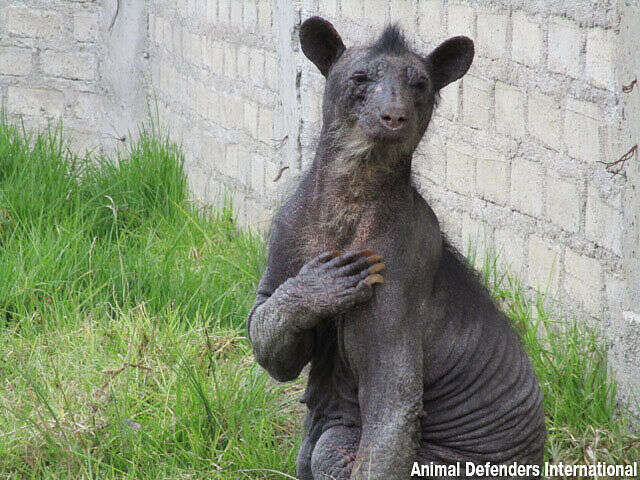 When Dominga was just a tiny cub, wildlife traffickers stole Dominga and her sister from the Amazon rainforest in Peru after killing their mom. The traffickers probably planned on selling them both as pets or into the entertainment industry, but officials managed to rescue them in time.
However, as young cubs, Dominga and her sister couldn't just be released back into the wild. So a zoo in the Andes Mountains offered to take them.
The zoo had good intentions, Creamer said, and tried to give Dominga and her sister a suitable enclosure. But the zoo just wasn't able to make up for the loss of their natural home.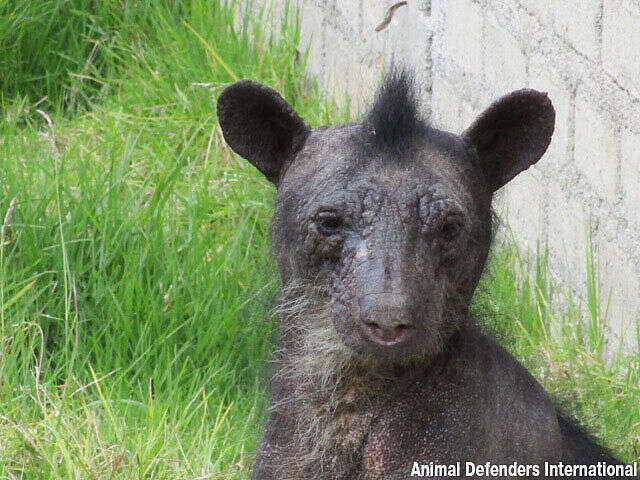 "There was nowhere in Peru to place animals that had been seized like this, so Dominga and her sister were put into a tiny zoo in the mountains," Creamer explained. "One of the problems with a small place like that, and the environment they were in in the mountains, is that it wasn't their natural environment."
"She was incredibly intelligent," Creamer said. "It had grass and a few trees and a den - but it was just rather bare, rather blank for an animal like her - she needs more interest."
At least Dominga still had her sister. But four years ago, Dominga's sister got into a terrible accident and got caught in some fencing. Though the details of the accident are unclear, she died from her injuries.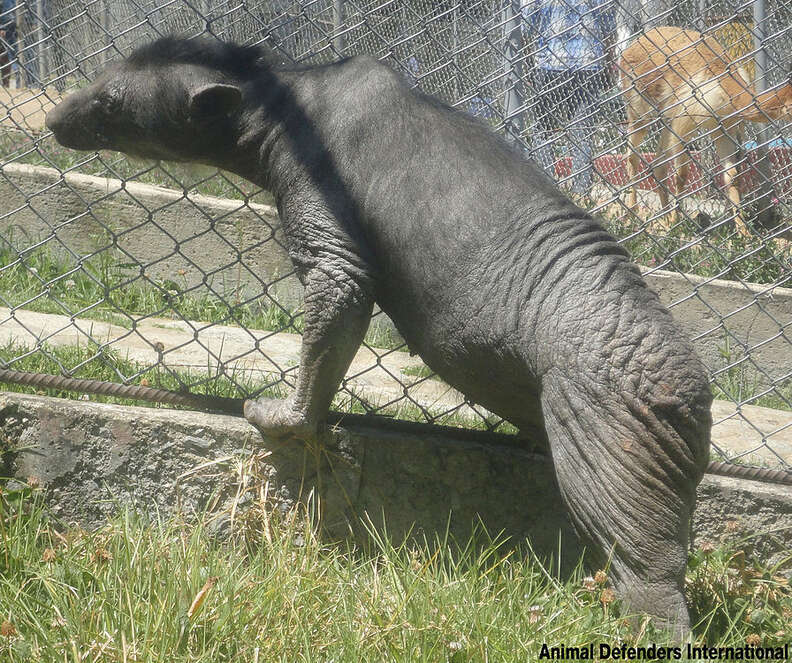 After losing her sister and only companion in such a traumatic way, Dominga spiralled into depression - and started losing her fur.
"Female spectacled bears are very sensitive and emotional," Creamer said. "It's known that in captivity, when they're distressed, they will lose their hair. Dominga had also lost weight. So she wasn't eating properly."
But, after living alone for four years, everything changed for Dominga last month. With the zoo's permission, a team from ADI arranged to transport Dominga to a new enclosure in the Taricaya Ecological Reserve, which is located in the Peruvian Amazon rainforest.
The journey took several days, and there were plenty of mishaps - at one point, the truck carrying Dominga broke down on a mountain. But when she eventually arrived back in the Amazon, it was all worth it.
"When she came out of her travel crate ... she literally ran towards the vegetation and the trees and the plants, as if she couldn't get there quickly enough," Creamer said. "It was just so wonderful to see the joy on her face. She was so excited."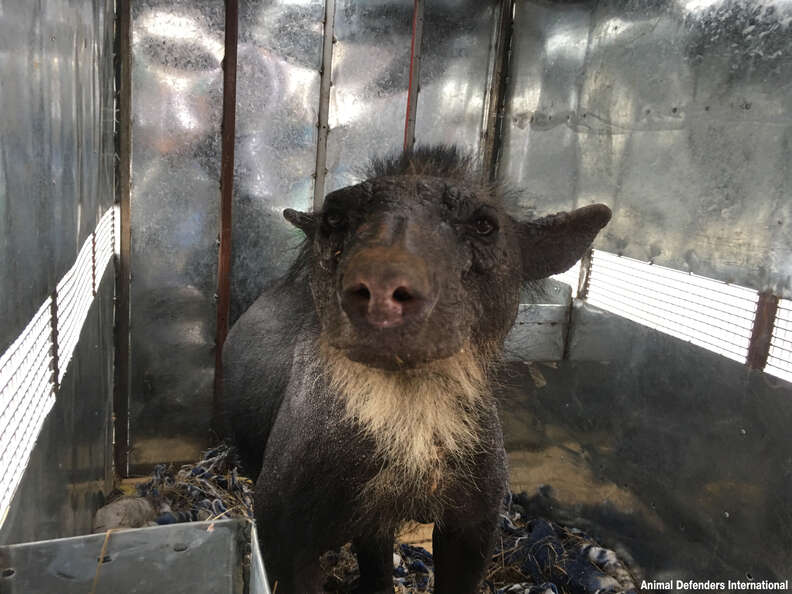 Dominga explored every inch of her enclosure that first day, according to Creamer.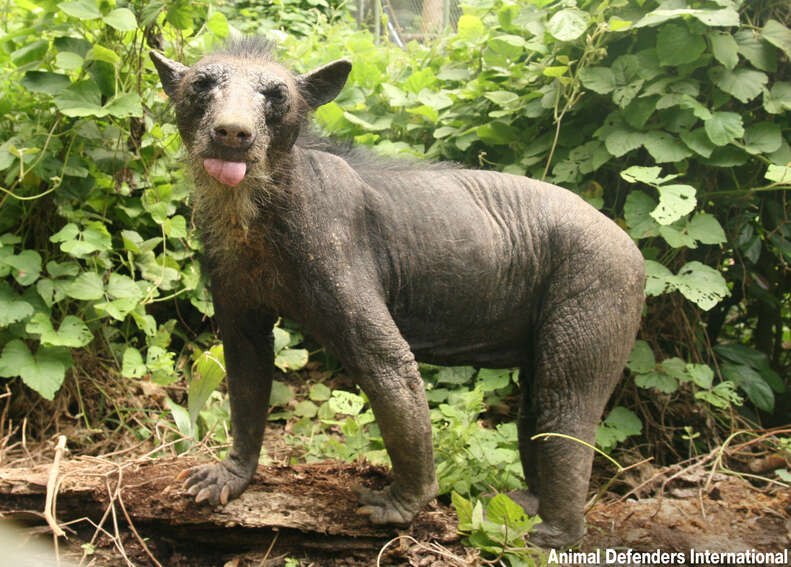 "She rubbed around the trees and the bushes and the vegetation, and she was tasting things," Creamer said. "She got to the other side of the enclosure, and went straight up the fence - climbed all the way to the top. Luckily we have a roof on there, because we did suspect that she might be able to climb out. She found her pool and her den and her platforms that she has to rest on. It was a wonderful thing to see."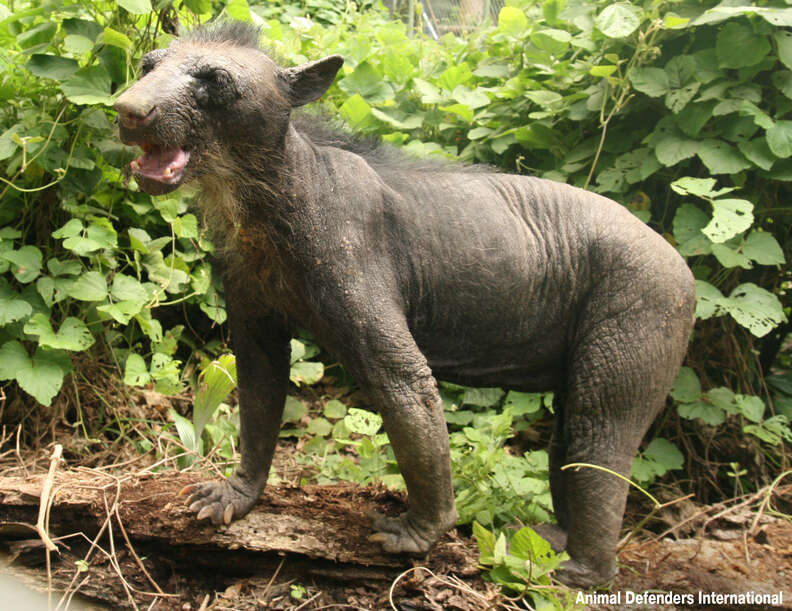 Dominga also has a new friend - she lives right next door to Cholita, another spectacled bear with a sad past. Cholita spent years as a circus bear before being sent to a zoo that couldn't care for her properly - like Dominga, Cholita went bald from stress and depression before being rescued.
"Dominga is certainly aware that she's next door to Cholita," Creamer said. "In between her enclosure and Cholita's enclosure, we built a little meet-and-greet tunnel with drop doors so they'll be able to meet. We'll keep the door closed and the fences down for some time, until we're sure about their relationship. Then we'll see about introducing them."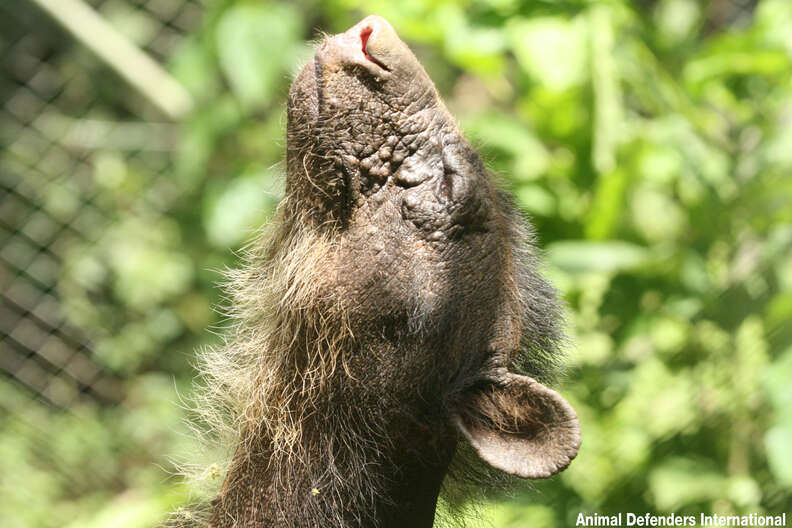 "Now, for the first time since her sister died, Dominga has someone next door who speaks her language," Creamer said.
Creamer is even hopeful that Dominga's fur might grow back.
To help ensure that Dominga has a happy and long life at the Taricaya Ecological Reserve, you can make a donation to Animal Defenders International.