Video Shows Circus Dolphin Packed Into Dry Crate Between Shows
"It's a dolphin's worst nightmare."
The dolphin should have been in water. Instead, she lay across a fabric stretcher that hung inside a dry, coffin-like box. Someone had draped a damp towel across her back, but by now, the water had evaporated.
People moved the dolphin towards an airplane, and started loading her into the cargo hold. The dolphin in the crate next to her called out in clicks and whistles.
Earlier this week, photographs and videos emerged of these two dolphins being transported in for use in an Indonesian traveling dolphin circus. They were being flown from Jakarta to Balikpapan to perform their next show.
"It's cruelty at its worst," Femke Den Haas, founder of the Jakarta Animal Aid Network (JAAN), told The Dodo. "Dolphins are supposed to live in the ocean where their bodies are light. When they're out of the water, gravity hurts them. The noise would also hurt them, and the extreme stress they are exposed to is killing them."
In Indonesia, traveling dolphin circuses are essentially like SeaWorld-on-wheels. They travel all around Indonesia, erecting temporary pools and stages, and making dolphins - as well as other animals like sun bears and otters - perform tricks for paying guests.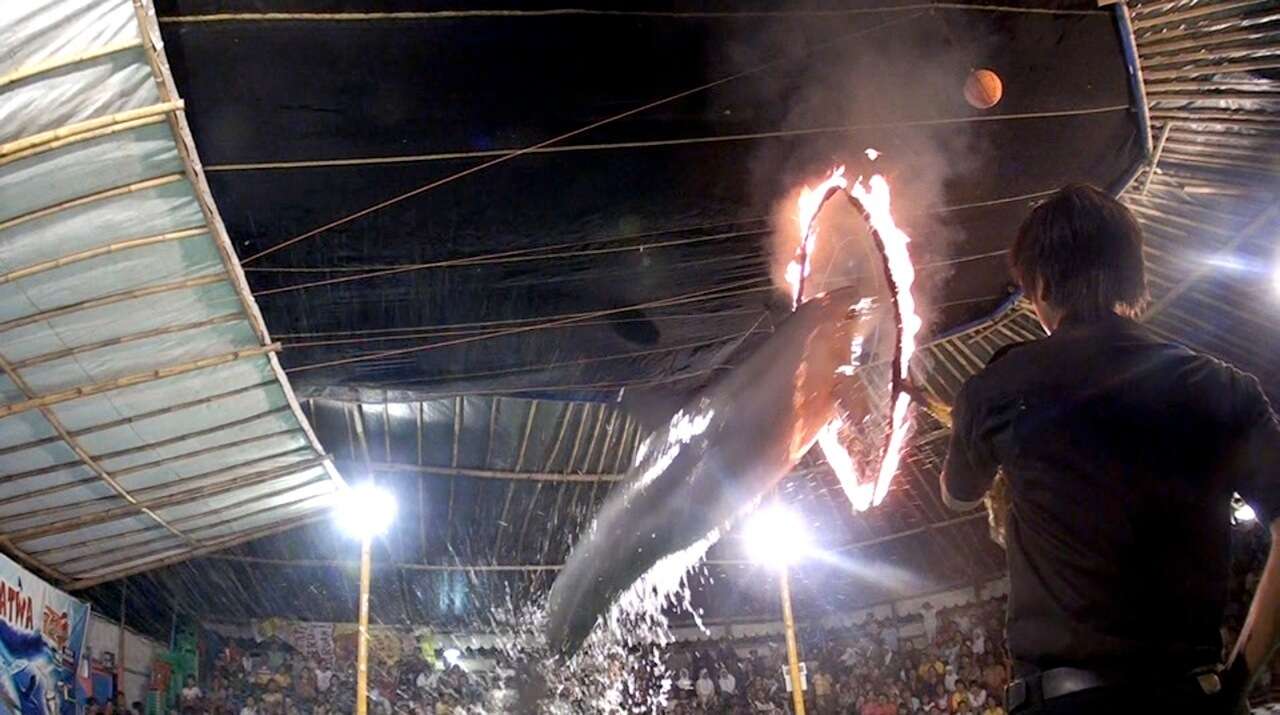 The conditions they live in are nothing short of deplorable, according to Den Haas.
When the dolphins, like the ones at the video, arrive at their destination, they are driven by truck to a circus location and placed into plastic-lined pools. Even though they're temporarily in the water, they didn't get any relief. The pools used in these traveling shows are shallow and filled with artificial salt water laced with chlorine. The water quality creates all kinds of health problems for dolphins - the chlorine burns their eyes and makes them prone to skin diseases, Den Haas explained.
Then there's the stress of the shows - in the traveling circuses, dolphins are expected to perform tricks like collecting rings, doing flips and jumping through rings of fire, which are all unnatural things for them to do.
Once the show is over, the dolphins are packed back into their travelling crates, and either flown or carried by truck to their next destination.
The stress of everything greatly shortens their lives, Den Haas said. While dolphins can live for more than 40 years in the wild, Den Haas believes they only live for four or five years when being used in the traveling circuses.
JAAN and Ric O'Barry's Dolphin Project are currently working together to try and put a stop to all dolphin traveling circuses in Indonesia. One way of doing this is putting pressure on Sriwijaya Air, the airline that currently transports the dolphins, Den Haas said.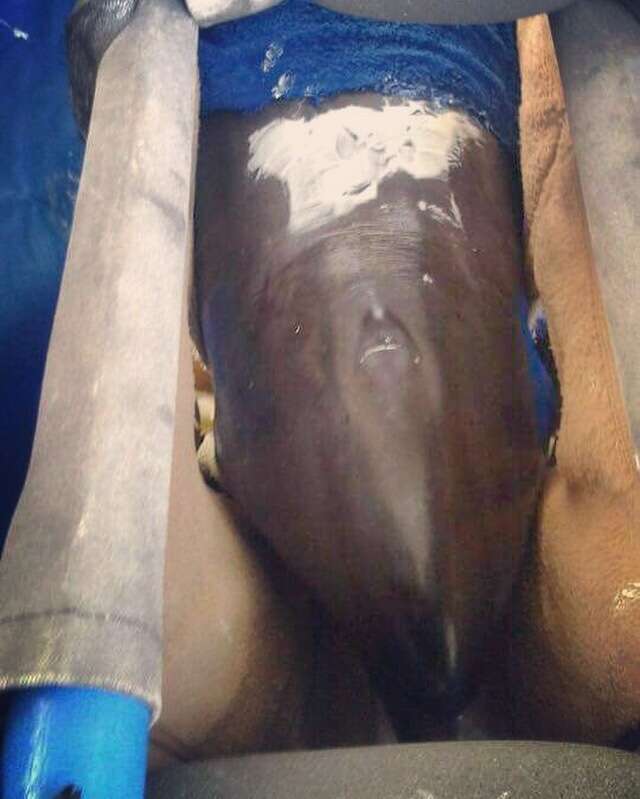 "We obtained similar footage in 2013, when Garuda [another airline] was transporting dolphins from Bali to Java," Den Haas said. "Gardua has since declared to never transport captive dolphins again."
"It makes me angry that this is still happening," she added. "It's a dolphin's worst nightmare."
To help the dolphins in Indonesia's traveling circuses, you can sign this petition. You can also make a donation to JAAN to help fight the dolphin circus industry in Indonesia.