It's been nearly five years since the Oscar-winning documentary "The Cove" put the international spotlight on Taiji, Japan, a town that slaughters thousands of dolphins every year. But despite outrage and a wave of backlash against Japan for condoning the behavior, little has changed. In fact, on Monday a large pod of some 50 to 60 dolphins, including calves, was driven into the cove and slaughtered by fishermen.
As has been reported before, the real motivation behind the hunt is the money that buyers will pay for captive dolphins destined for marine parks. According to trade documents, a single trained dolphin can earn upwards of $40,000. While some of the animals caught in the cove are sold to parks, the majority are slaughtered for their meat - despite government warnings that it contains dangerously high levels of mercury.
Rare dolphins are especially valuable - and this year it's more evident than ever. Fishermen have already caught two albino dolphins, adding to the one albino calf they caught last year.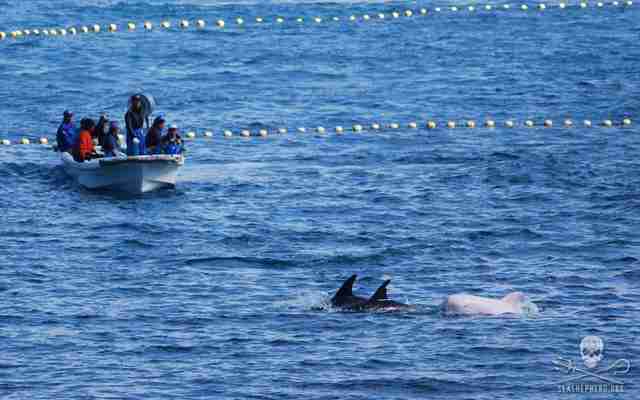 While this year's pair swims in their sea pens in the cove, last year's calf is still in a tank at the nearby Taiji Whale Museum.
While the slaughter goes on, there are several groups that are working to save Japan's dolphins. See this page for everything you can do to help end the annual dolphin slaughter in Taiji.