Dolphins Trapped In Tiny, Chlorinated Pool Just Steps From The Ocean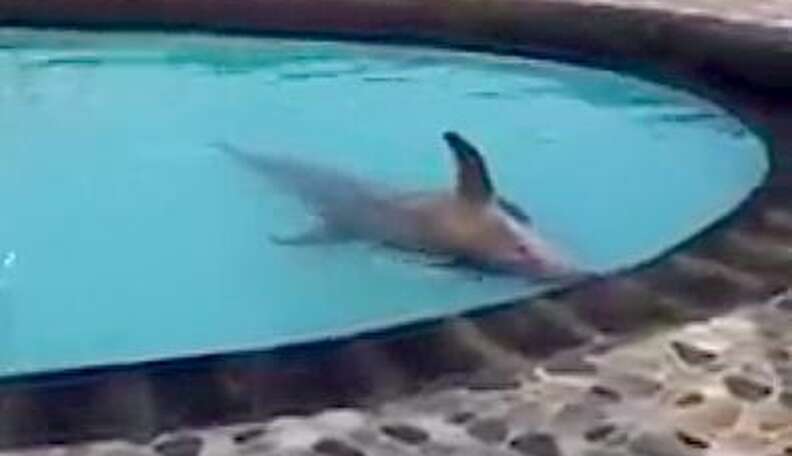 <p><a href="https://www.facebook.com/video.php?v=1013524065354314&pnref=story" target="_blank">Facebook/Change.org</a></p>
Mere yards from the ocean waters where they belong, four dolphins are wasting away in a tiny chlorinated pool so that tourists can swim with them and take home exotic glamour shots.
Surfer Craig Brokensha recently filmed two of the four reported dolphins lifelessly languishing in the pool at Wake Bali Adventure Park in Indonesia. Showing the hopeless truth of wild animals kept confined, the video went viral and spurred a campaign to free the animals. "I just thought, that's incredible, that can't be right," Brokensha told news.com.au.
Attractions that allow tourists to swim with dolphins have been wildly popular all over the world. But the disturbing truth of these programs is starting to come to the surface, as dolphin trainers speak out about how these programs harm dolphins, including sunburn from the shallow pools where they're forced to live, vitamin deficiencies and premature death. The Dodo reported on the seedy underbelly of these programs in April, and pointed out that, according to a World Animal Protection/Humane Society of the United States report, "The Case Against Marine Mammals in Captivity," dolphins and other marine mammals in captivity are routinely given antibiotics, ulcer medications and vitamins to try to counteract the harm that captivity causes.
It's hard work to rehabilitate dolphins who have been captured and kept in captivity so that they can return to the wild waters where they belong, but it can succeed beautifully. For example, Tom and Misha are two dolphins who lost many of their wild instincts and behaviors after they were kept in a tiny pool in Turkey. When they were rescued, they were brought to a sea pen where they worked with special trainers for 20 months to ensure they had the skills needed to survive. Now they're thriving in the wild.
Over 250,000 people urged Indonesia's Ministry of Environment and Forestry to help release and rehabilitate these poor dolphins. Add your name to a petition that says this treatment of dolphins is not OK.