These photographs were taken in Kalbarri, a little town on the Western Australian coast. I was travelling along the coast for a little photography road trip when I stopped into Kalbarri to try out my new 70-200mm lens and I thought stopping at a local surfing spot would be a good place to start. I was shooting the surfers but focused my attention on a surfer who I now that as Trent Sherborne who is a local teacher at the Kalbarri School.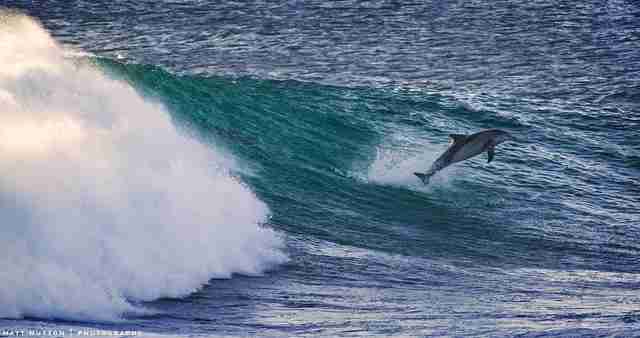 I photographed Trent riding a wave with the two dolphins which was pretty awesome but nothing prepared me for the next shot I was about to get! At this point Trent was finishing off a wave he caught and I followed him with my camera then out of no where a Dolphin breached out of the water right beside him. As soon as I looked at my camera I knew I had captured something pretty special. The photo has received plenty of positive feedback online but also plenty of negative feedback with people thinking it's fake and photoshopped! I can assure you -- it's real.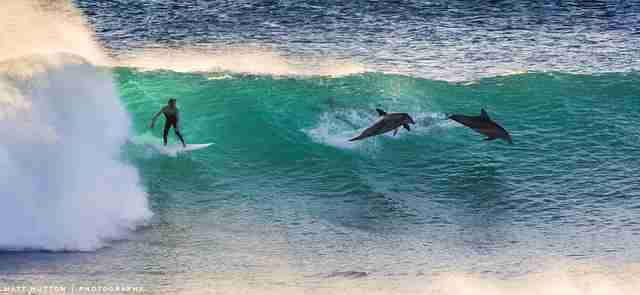 I bought my first camera in 2006 while on a family trip to Thailand. I continued to play around with photography but it wasn't until I moved to Wickham located in the Pilbara, Western Australia that my love for photography really began. With the National Parks, Beautiful Sunrises and Sunsets and just the beauty of the Australian landscapes, I began to fine tune my skills in both photography and post processing to get to where I am today! I would love to one day have a full time career in photography but for now it's a hobby and a passion and I will continue to pursue my dream of being a professional photographer .