Though this season's dolphin hunt in Taiji -- which killed 800 and took 160 into captivity -- is finally over, dolphin hunts in Japan actually continue all year long. And the publicized Taiji hunt is responsible for only a fraction of the allotted 16,655 small cetaceans (including dolphins and porpoises) that the Japanese government is allowing to be killed in nationwide hunts this season.
According to a report by the independent Environmental Investigation Agency, 3,289 animals from nine different species were caught in 2011, while 11,209 were caught in 2009. The report suggests a "declining demand for cetacean meat and the increasing economic costs of hunts" may play a role in the changing numbers, but also that there is "significant evidence" that the cetacean populations have plummeted, suggesting they are populations at risk or endangered.
Some of these are caught through a technique called drive hunting, like that used in Taiji, while others are caught with harpoons. Elsa Nature Conservancy, a Japanese environmental group, has a comprehensive list of the annual dolphin catch quotas for each Japanese province. Here are the places where dolphin hunting goes on in Japan, along with the type of fishery and the season of the hunts, taken from data provided by Elsa and the International Whaling Commission (IWC):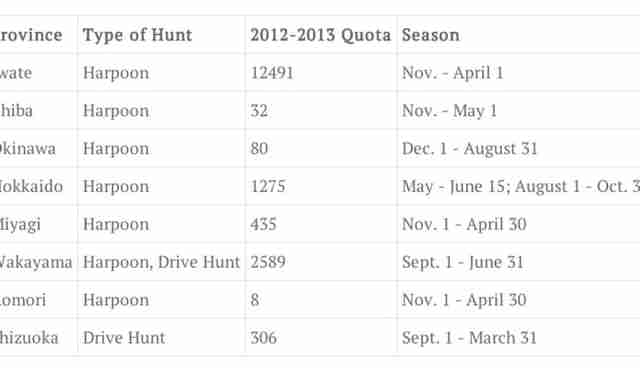 You can sign the petition below to demand that Prime Minister Shinzo Abe take the appropriate steps to ban the dolphin hunt in Taiji immediately.