Dogs With Sad Pasts Are Finally Reunited
<p><a href="https://www.facebook.com/TinCanTown" target="_blank">Tin Can Town</a></p>
<p><a href="https://www.facebook.com/TinCanTown" target="_blank">Tin Can Town</a></p>
Anyone who's fallen in love knows how heart-wrenching it can be to be separated from your loved one. For an old dog named Caesar and a puppy named Saskia, this feeling is all too familiar. After falling head-over-heels, the dogs were pulled apart, and they didn't know if they'd ever see each other again.
Before Caesar and Saskia met, they lived in separate sections of Blikkiesdorp, a township in Cape Town, South Africa. In Blikkiesdorp, life is hard for both animals and humans. Some of Cape Town's poorest people live here, residing in shacks made from scrap metal, old tires and pieces of wood. Social services are nonexistent, and there's only one toilet and sink for every eight homes. Blikkiesdorp is also plagued by gang violence, making it one of the most dangerous places in Cape Town.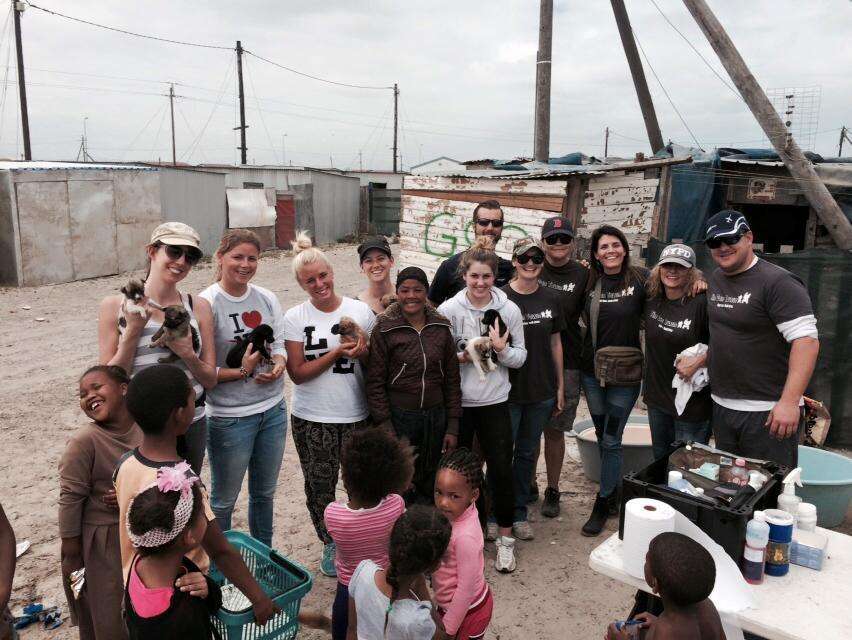 Three South African women, Rosie Kunneke, Dinielle Stöckigt and Clarina Hanekom, decided to do something about the animal suffering they witnessed in Blikkiesdorp, so they started Tin Can Town, an organization that offers humane, life-saving animal services to the dogs and cats. Kunneke, Stöckigt, Hanekom and a team of volunteers hold regular outreach days in Blikkiesdorp to neuter and spay animals, offer veterinary care and provide food. They're also on call 24 hours a day to help any animal in need.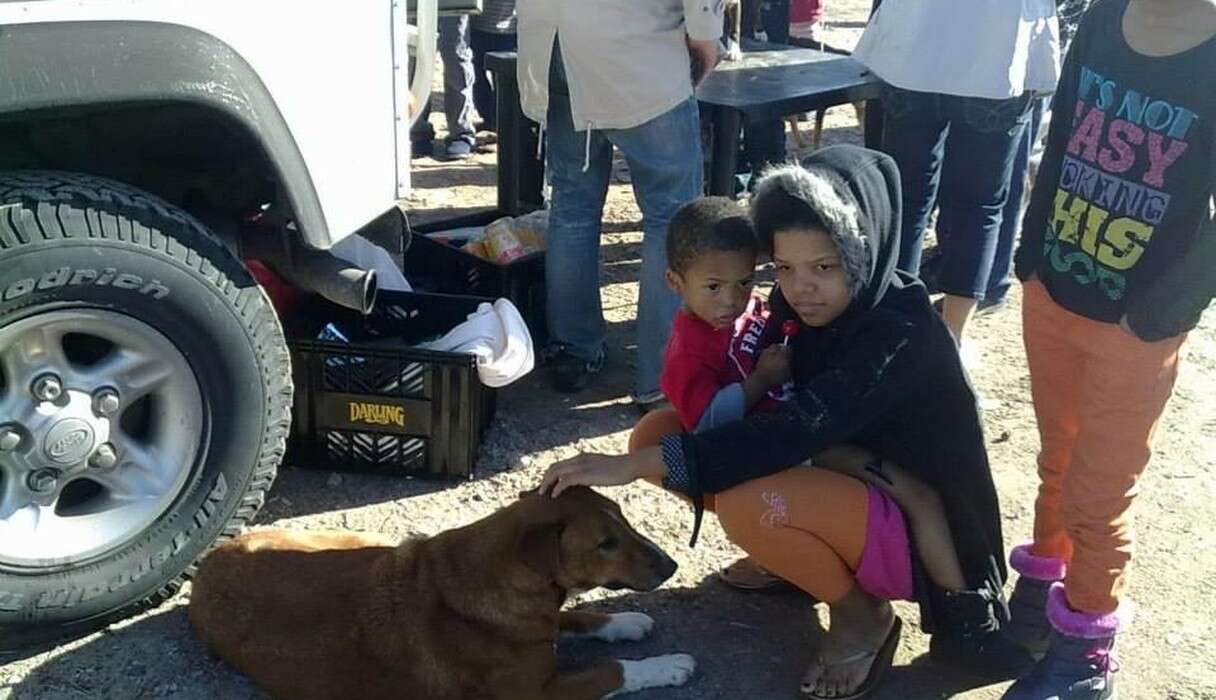 During one of their routine outreach days, Kunneke met Caesar, an older, red-furred dog who lived with a couple in a nearby shack. After meeting Kunneke, Caesar always came over to say hello. "If Caesar heard our car, he'd come running," Kunneke tells The Dodo. "He was quite skinny, and we always made sure he had something to eat. We castrated him and also provided the vet care he needed."
When the man and woman who looked after Caesar broke up, Caesar stayed with the woman, but according to Kunneke, she didn't take good care of the dog. Then things got worse for Caesar - children threw rocks at him, injuring him quite badly. "When we found him, he had a few wounds on his head, but the worst was his nose," says Kunneke. "His nose must have been hit very hard because it continued bleeding for days, and the vet had difficulty getting it to stop. The injury was in his nostrils, and not an easy place to reach."
At this point, Caesar was 10. If he stayed in Blikkiesdrop any longer, Kunneke feared he wouldn't live another year. So Kunneke took Caesar away from Blikkiesdorp and placed him in foster care.
While Caesar recovered in his foster home, Hanekom learned that a 4-month-old puppy named Saskia from a neighboring part of Blikkiesdorp needed help. Saskia was severely malnourished and suffered from gastroenteritis, and Hanekom whisked her to the vet for emergency medical attention. When Saskia got better, Hanekom tried to take her back to her owners, travelling to the address they'd provided. But when Hanekom arrived at an empty plot, she realized they'd given her the wrong address, and probably didn't want Saskia back. "We decided then to get a foster mommy for Saskia," says Kunneke, "and to find her the forever home she deserves."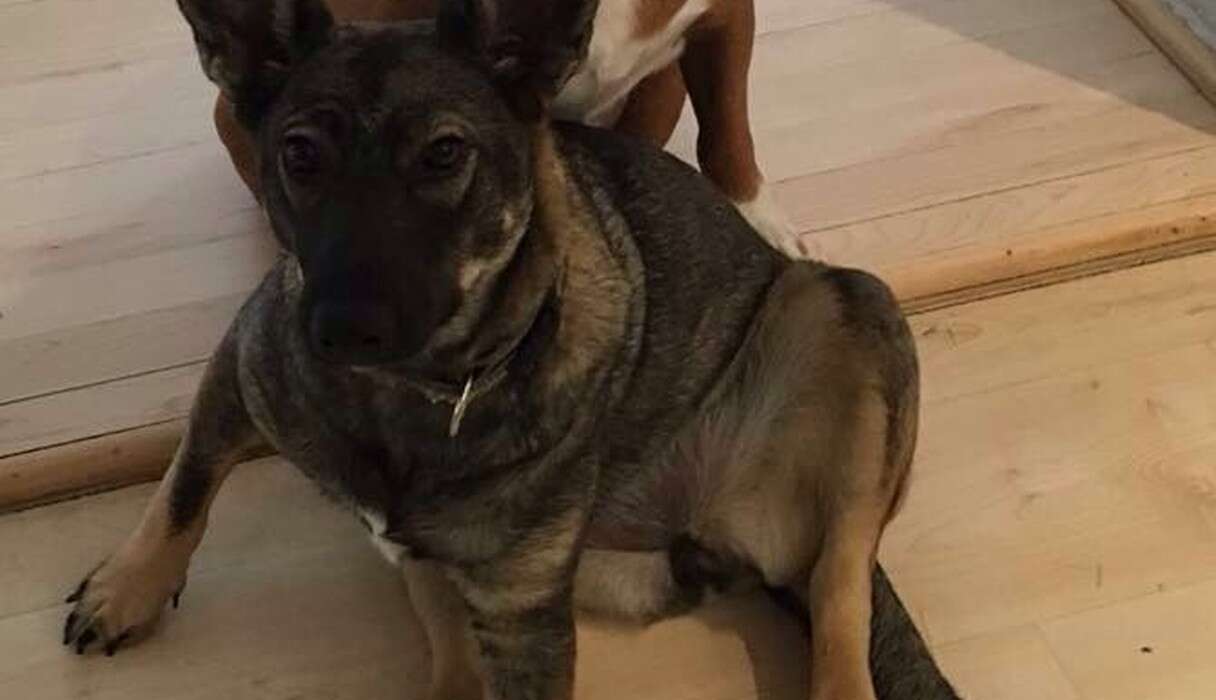 As luck would have it, Saskia ended up in the same foster home as Caesar, and the two of them fell in love. "I wasn't there to witness it, but from what I heard, Saskia would follow Caesar around," says Kunneke. "She'd lie close to him, eat when he ate and drink water when he did. They would sleep in the same dog bed, and Caesar would play with Saskia. He never got irritated or angry when Saskia jumped all over him. They never left each other's side. Everything was done together."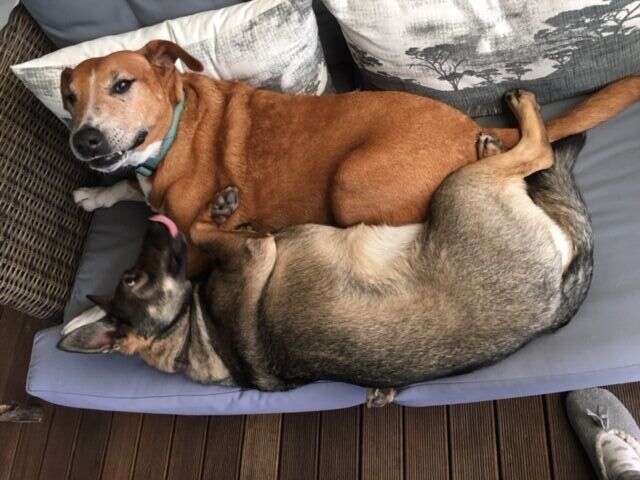 Of course, foster homes are only temporary, and it's important for animals to move to forever homes so foster carers can help more animals. So when a retired couple in Cape Town adopted Caesar, everyone was overjoyed. "We couldn't have asked for a more lovely home for him," Kunneke says.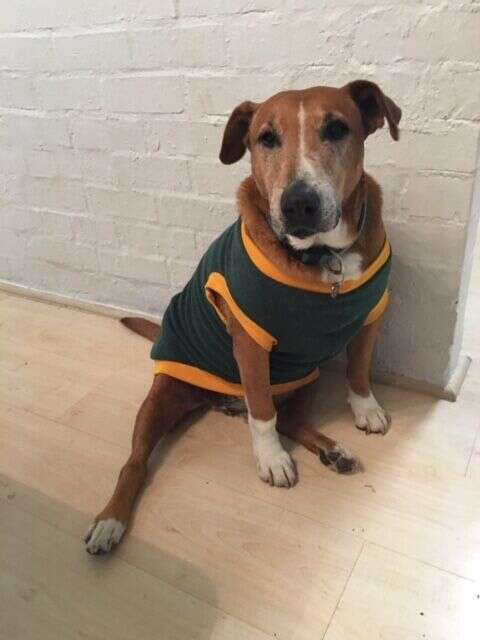 Saskia was devastated. She'd lost her best friend and constant companion. "She was definitely depressed and missed him," Kunneke says. "She wasn't interested in playing that much, and would just lie in the bed where she and Caesar normally slept together. She was always looking for him."
The foster family tried finding Saskia a forever family, hoping a new environment would cheer her up. They took Saskia to several adoption days, but they had no luck.
Then, a few months later, Caesar's adoptive parents contacted Tin Can Town, and said they wanted to adopt a friend for Caesar. Turns out, Caesar was depressed too. They knew exactly which dog to suggest.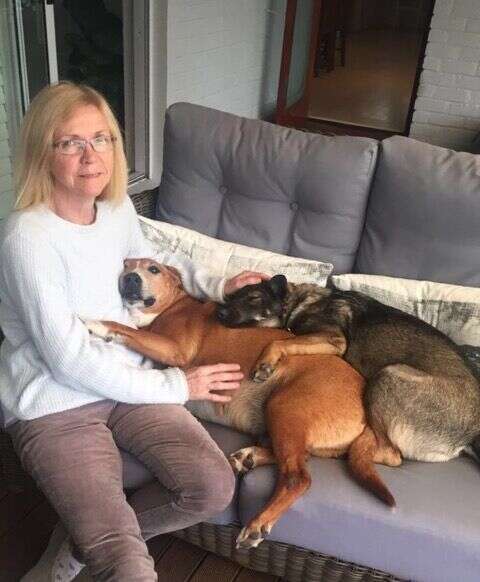 "The foster mommy dropped Saskia off, so I wasn't there," says Kunneke, "but they said Caesar immediately recognized Saskia, and there were lots of happy licks and tail wags. Caesar showed Saskia around the new house, and after that they both laid down in the same bed to take a nap."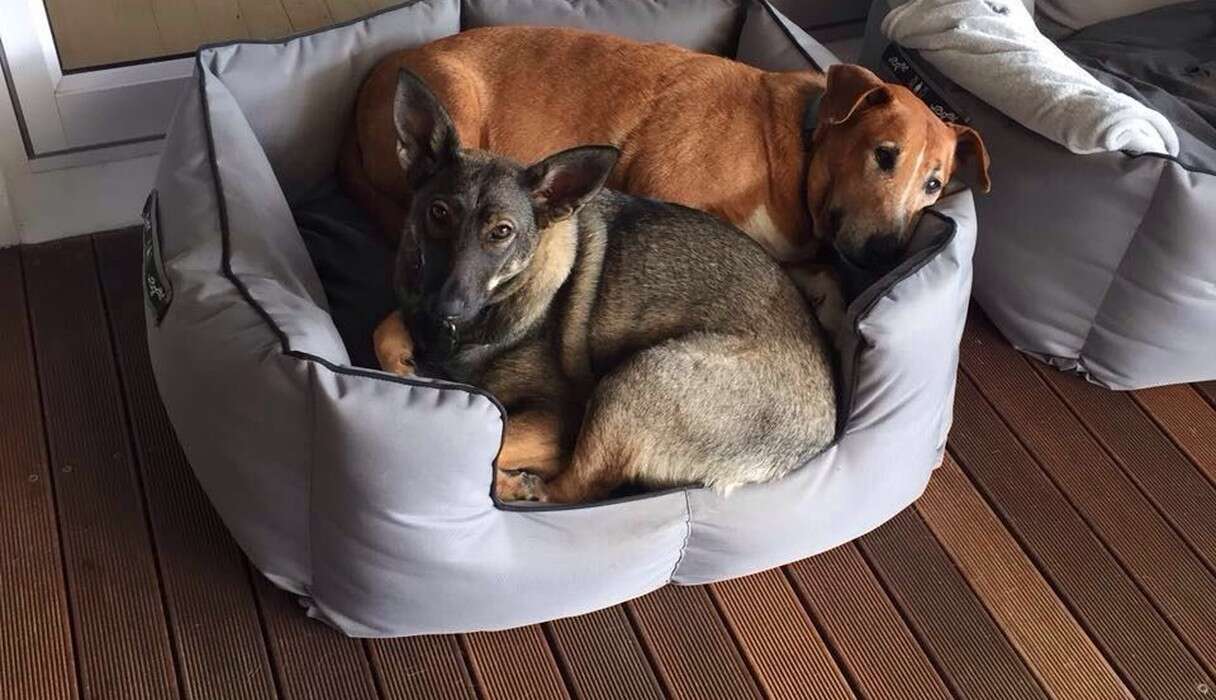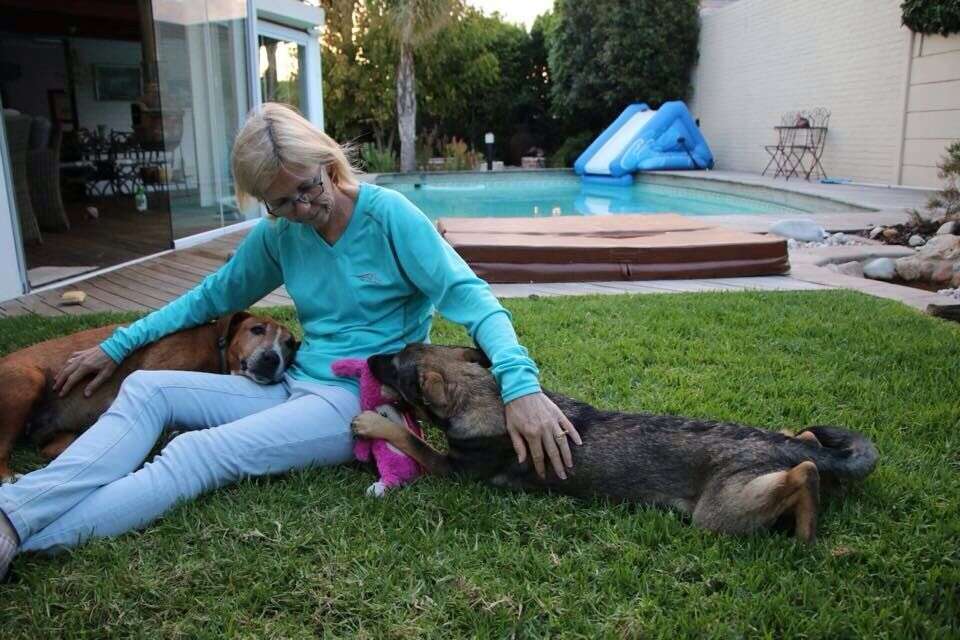 Caesar and Saskia haven't left each other's side since.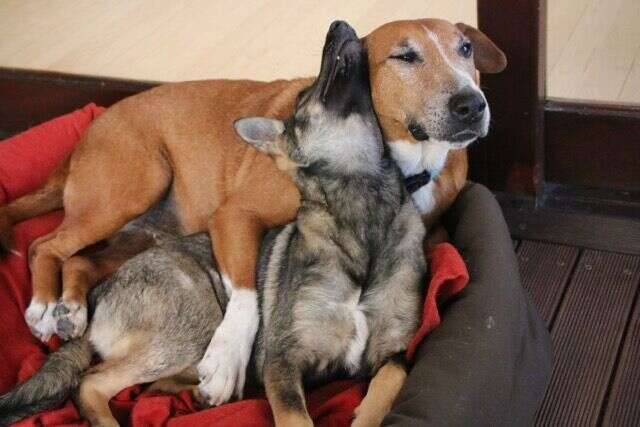 "Every animal that we manage to save and find a foster home for is the reason for us to celebrate," Kunneke says. "Saskia and Caesar's story is so heartwarming, and knowing that we found them a home together makes us smile everyday."
Tin Can Town tries to help every animal it comes across. The group also works to educate people on how to properly care for their companion animals. For more information, you can visit Tin Can Town's Facebook page and donate through its Paypal account.