Dogs Went Missing In A Burglary 3 Years Ago — And Their Mom Is Still Searching For Them
"I love them so much, like they're my kids, and I will never stop looking."
When Amanda Denes came home from work one day three years ago, she immediately knew something was off.
"I walked into my apartment and noticed things were kind of awry," Denes, who teaches at the University of Connecticut, told The Dodo.
The apartment was on the second floor of a three-floor house in Hartford, Connecticut. Denes entered that evening by the back door. "I went into the bedroom and I could see the room had just been torn apart," she said.
At first, Denes thought that her two beloved dogs, Burton and Zuzu, had just gone nuts and torn everything up while playing around the house - until she realized she couldn't find them.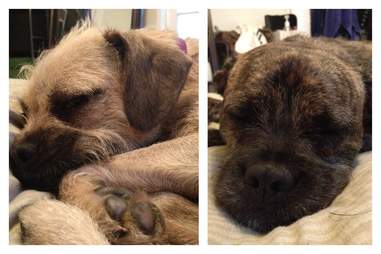 Amanda Denes
"It still didn't really hit me what had happened until I saw the TV was knocked over, there was shattered glass everywhere and the front door was left open," Denes said.
And Burton and Zuzu, a brother and sister pair who were 3 years old at the time, were gone.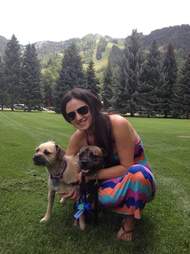 Amanda Denes
"Panic set in," she said.
Denes rushed outside. It was a very cold winter and she was worried the dogs were out wandering in the frigid cold. Denes knocked on neighbors' doors to see if they had seen anything. Friends came over to help Denes look for the dogs.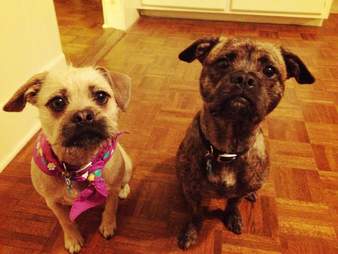 Amanda Denes
The police came and took the report. They investigated everything anyone could think of. "Every ex, students who had gotten bad grades - we tried everything," Denes said.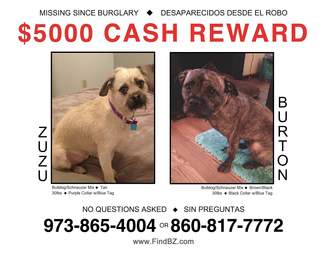 Amanda Denes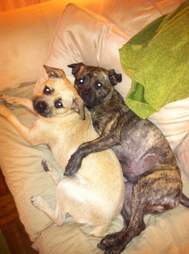 Amanda Denes
None of her possessions were taken. There was even a $10 bill lying on a table that hadn't been touched. But as the hours passed, it became clear that the dogs were long gone.
Amanda Denes
Denes and her friends hung flyers all over the city. She went on the radio to ask for help. She raised money for a reward - $5,000 and no questions asked, so that people would have no reason not to come forward.
Amanda Denes
Someone even donated an electronic billboard on the highway showing the dogs and asking for help.
Six months passed. Denes had been searching almost every day within the city and then she searched the outskirts of the city. Then she expanded the search to basically the whole East Coast, contacting shelters, veterinarians and every animal-related service. The dogs were microchipped.
Still nothing.
Amanda Denes
Instead, Denes got what turned out to be false alarms, prank calls and even some scary messages. "I got a number of calls like, 'I have your dogs, I'm going to kill them if you don't wire me the money.'"
She even started getting some advertising brochures in the mail addressed to "Amanda Dead Dogs." Denes started to get scared that someone was trying to send her a message. But she never stopped looking.
Amanda Denes
"We never to this day got answers to what happened. I don't know if someone I knew tried to break in; I don't know if it was a complete stranger," Denes said. "It's just a weird choice to break into the second floor, into a home that has dogs. It's all the things everyone says will never happen - and it happened."
February 27, 2017 marked three years since the break-in.
Amanda Denes
Amanda Denes
"It's been several years and it's just crazy that we've heard nothing," Denes said. "I still go back and forth in my head about what happened ... The one thing to take away is just to love every moment you have with your pets, because you just never know."
Amanda Denes
Even if the news is bad, Denes still just wants to know what happened, so she can mourn her dogs and be at peace. As it is, she is haunted by the sight of any dog who resembles Burton and Zuzu.
"I love them so much, like they're my kids," Denes said. "I will never stop looking for them."
Amanda Denes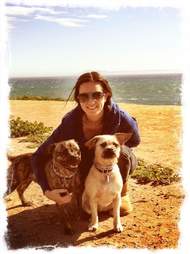 Amanda Denes