Bright Future Awaits 23 Dogs Saved From South Korean Dog Meat Farm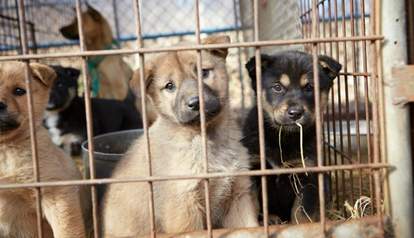 <p> <a class="checked-link" href="http://www.hsi.org/">Humane Society International</a><span></span><br></p>
Nearly two dozen dogs raised for human consumption on a dog meat farm in South Korea will soon begin new lives as cherished pets to loving families - thanks to the work of animal rescuers who made it all possible.
But while a brighter future awaits these once ill-fated dogs, there are many others like them for whom rescue couldn't come soon enough.
This week, the first 12 out of a total of 23 dogs arrived in Washington, DC from Seoul where members of Humane Society International (HSI) had found them living in unimaginable circumstances on a small farm. Images show the deplorable conditions in which they had been held all their lives, cramped together in metal cages, awaiting slaughter.
This farmer was far from alone in his involvement in the dog meat trade. HSI director of companion animals, Kelly O'Meara, tells the Agence France-Press that dog meat farmers number "at least in the hundreds" in South Korea, where an estimated 1.2 to 2 million dogs are consumed every year. HSI hopes to stop it at its source.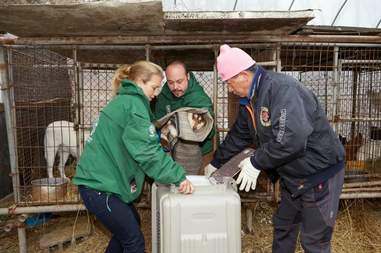 The group has only just begun working with farmers in the country to transition away from slaughtering dogs - with the hope that millions of others, like the one pictured above, will do the same.
"Our objective is to have this be a permanent change in a cruel trade," O'Meara tells the Washington Post. "He is the first, and we're hoping [he is] a model example for others to follow. Offering him some assistance - that was something we were happy to do."