In a sweltering Florida backyard, desperate eyes peer of out a shabby wooden box. They belong to a dog who is unable to get help himself. But despite the deplorable conditions, and apparent lack of access to food and water, those whose job it is to intervene are accused of doing nothing at all.
Authorities from the Palatka Police Department were alerted to the troubling situation late last week after residents complained that several dogs locked in the box appear to be suffering, as the Examiner reports.
"Today [June 10], on a 102 degree heat-index day, 2 pitbulls are being held captive in a tortuous plywood box. Steaming in their own waste and uric acid," wrote eyewitness Roxanne Weeks on Facebook, sharing the photo above. "See the eyes staring through the little hole? In the same backyard is another dog on a heavy chain with no food or water."
Officers were reportedly dispatched to the scene, but left shortly thereafter because the homeowner was away. However, in their initial assessment, they evidently found no cause for alarm.
"A strong, foul odor was (reported) coming from the kennel, and the complainant did not believe the dogs had sufficient air," read a release from the police. "The officers noted the dogs did not appear to be in distress and could not smell any foul odors."
The following day, police returned and made contact with the dogs' owners. Once again, they found "no lawful reason to seize the animals for their safety or well-being."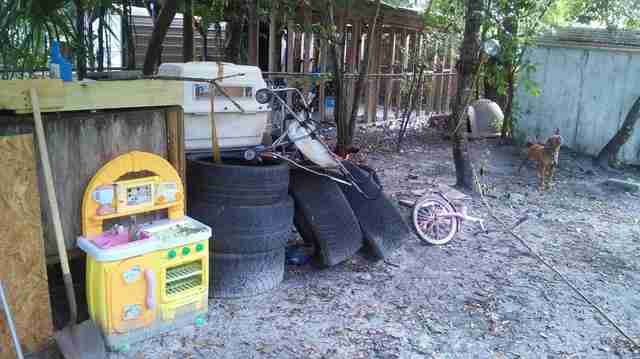 The troubling account of the dogs' condition and police inaction spread quickly online, leading to a report filed with PETA and a petition calling for law enforcement to take swift action. Oddly enough, since then the Palatka Police Department's Facebook page has been made inaccessible.
As of Monday, the dogs' owner has reportedly relocated three of the dogs, leaving one remaining in the cluttered yard. Still, that brings little comfort to Weeks, who suspects the callous treatment has merely moved out of sight again:
"IT'S TOO LATE. The neighbor just alerted me a friend of the tenant showed up and the two of them loaded up the 3 dogs and drove away, apparently tipped off," she wrote. "No telling where they went, to what or if they'll ever be seen alive again."