Rami The Pit Bull-Dachshund Needs Help Saving Dog Who Looks Just Like Him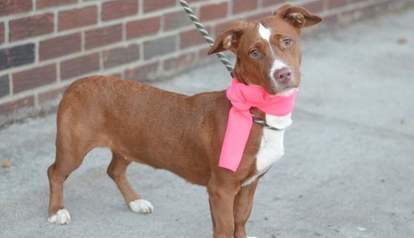 <p><a href="https://www.facebook.com/Urgentdeathrowdogs/photos/a.968329936513219.1073743329.152876678058553/967713663241513/?type=1&theater" target="_blank">Facebook</a><br></p>
Rami, the famous pit bull-dachshund mix, nobly gave up the search for a forever home to become an ambassador for his fellow canines. Now, with the help of his humans at the shelter, he's speaking out for one of those dogs, who just happens to look a lot like him.
As the official "ambassadog" of the Moultrie Colquitt Humane Society, in Moultrie, Georgia, Rami has a Facebook page to share important news about shelter dogs who need help. On Friday, the humans behind Rami's page shared a photo of Pansie, a pit-dachshund mix like Rami, who is currently at Animal Care and Control of New York City: "Anyone in the NY area that can help my friend, Pansie? She needs a home soon! Will you please help my friend out??"
Pansie is a sweet 2-year-old with short little legs and big eyes just like Rami, and she's in danger of being euthanized if she doesn't find a home soon. Due to critical overcrowding in the nation's animal shelters, 2.7 million healthy and adoptable pets are killed each year. Rami and his fans are hoping that by sharing Pansie's story, she won't become one of them.
You can see Pansie's profile here. Hopefully Rami's celebrity will help Pansie find a safe and loving forever home.