Dogs Get The Holiday They Deserve​​​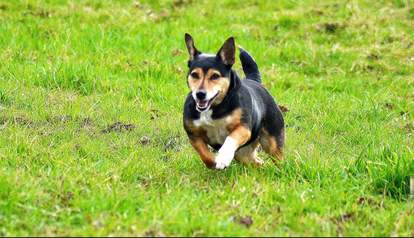 <p>Micolo J / <a href="https://www.flickr.com/photos/robin1966/16738335657/" target="_blank">Flickr</a> (<a href="https://creativecommons.org/licenses/by/2.0/" target="_blank">CC BY 2.0</a>) </p>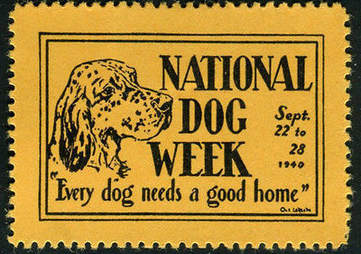 In America, mothers and fathers get one official day of honor each year, but did you know that the nation's dogs get an entire week? This September, National Dog Week is enjoying its 87th observance when man's best friend is honored for it service to humans. Here are seven facts about this unique celebration.
1. National Dog Week made its "Crate Escape" on the American scene in September 1928, established by the ultimate dog enthusiast, Captain William Lewis Judy. Judy, a decorated WWI veteran, minister, and lawyer, was the publisher of Dog World Magazine, a position he cherished for several decades.
Courtesy of Dog World Magazine
2. In launching this seven day salute to the nation's dogs; Judy declared that his goal was not to bring more dogs into the world, but to make humans more responsible for the dogs that were already here.
Courtesy of "Don't Call a Man a Dog," Will Judy, 1949
3. Judy was a prolific editor and author of all things "dog". In the mid-1930s, he was instrumental in forming the Dog Writer's Association of America (DWAA), an organization that gave those who wrote about, and reported on canines, the professional respect they deserved. The DWAA remains active and vital today.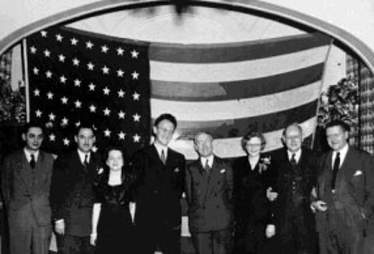 Courtesy of DWAA
4. Judy was among the first to educate his readers about the spiritual and emotional bond that exists between dog and human. He used his teachings in the ministry to guide his readers to a more gentle regard for dogs.He wrote about the therapeutic value of dogs long before it was widely-acknowledged. He also fought hard to give Dogs of War the honor and credit they deserved for their service to soldiers on and off the battlefield.
Courtesy of "Don't Call a Man a Dog," Will Judy, 1949
5. National Dog Week was slow to catch on at first. In the shadow of the Great Depression, how could a dog get seven days when most humans could not even have one? But as America rebounded in post war America, the nation rallied around National Dog Week. From coast to coast, and in between, dogs were celebrated with parades, parties, adoption drives, fashion shows and all kinds of activities. In midtown Manhattan, dogs took over the Lower Plaza of Rockefeller Center where celebrities served as Honorary Chairpersons for the occasion and the public got to see the talents of numerous breeds.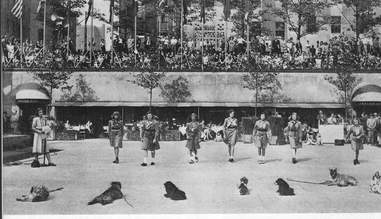 Courtesy of NDW headquarters: Program from NDW 1946
6. In its heyday, National Dog Week even had its own headquarters in New York City. Each observance was dedicated to a theme centered on the dog-human bond. Judy commissioned renowned artists to create an image for these themes that was used in poster art to promote each year's observance.
Dog Week Poster stamp: Artist unknown
7. Captain Arthur Haggerty, regarded as the "Grandfather of American Dog Obedience" dedicated the last years of his life to promoting the work and mission of Captain Will Judy and his mission to improve dog-welfare. In 2006, Haggerty launched a website to encourage the nation to keep Judy's venerable tradition alive and well! In 2010, a blog was established to educate the public about his legacy and in 2011, Oregon-based artist Donald E. Brown created a National Dog Week poster designed to educate and inspire a new generation about National Dog Week and its relevance today.
Courtesy of Babette Haggerty
To learn more about National Dog Week and its founder read "Dog's Best Friend: Will Judy, Founder of National Dog Week and Dog World Publisher" (McFarland & Co.) by author Lisa Begin-Kruysman.And join the National Dog Week Community on Facebook.
Courtesy of the estate of Albert Staehle