Dog Knows Exactly How To Ease His Adopted Siblings' Anxieties
<p><a href="https://www.instagram.com/wat.ki/" target="_blank">Instagram/wat.ki</a></p>
<p><a href="https://www.instagram.com/wat.ki/" target="_blank">Instagram/wat.ki</a></p>
Watson has lived with his mom Jennifer in Washington since he was just a puppy, and loves everything about his life.
Now a year and a half old, the golden retriever is just a huge love bug. And when his mom adopted two siblings for him who were a little anxious and unsure about their new surroundings, Watson knew exactly how to help them.
Kiko, now 5 years old, joined the family about a year ago with some anxiety issues. Lots of things made him nervous - except for Watson.
"It's like Watson knew that Kiko needed support, so he started to always lay by him and help him get more of his confidence back," Jennifer told The Dodo. "Kiko is still a work in progress but at least now he feels more comfortable at home."
Not long after Kiko arrived, Harry the cat became the third sibling to join the family. At first, Harry wasn't really into cuddling and hanging out with his dog siblings, but Watson soon changed that.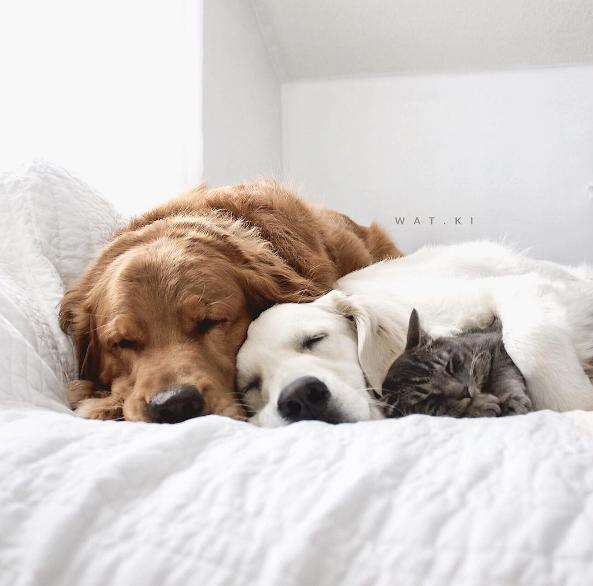 "Watson is the king of snuggles. His temperament is so calm he got Harry to love it too," Jennifer said. "They all get along very well and show pure love for each other."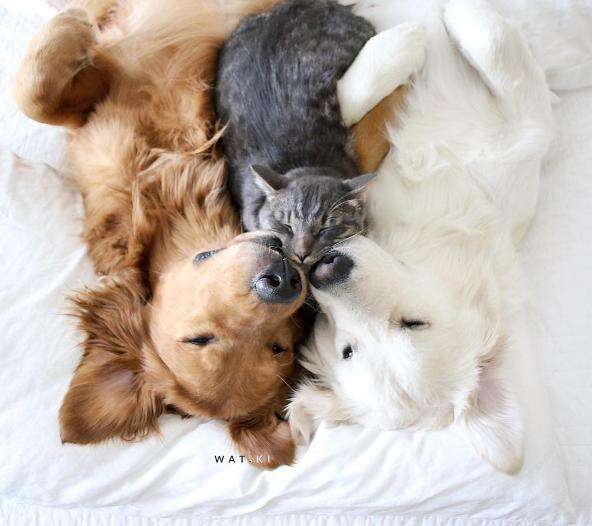 After warming up to his siblings, Harry decided that he must be a dog too, and now totally acts like one. "He will actually play fetch with Kiko and Watson, and like the rest of them, he loves to sleep and eat," Jennifer said.
All three animals started life without a family or siblings, and now they're learning how to love every day.