Family Of Pets Is Obsessed With Their New Baby Brother
"From the minute we have brought Sonny home, they have respected him and loved him as one of their own."
Roxy, Edith, Rosie, Jake and Mia are a family of four dogs and one cat who who all happen to get along great. The five siblings are incredibly loving and supportive of each other and their parents - and when a new family member came home one day, they were eager to welcome him into the pack, too.
When Kasey Boggs and her husband found out they were having a baby, she could tell her pets could sense something was changing, especially on the day she left for the hospital to give birth.
"They were out of sorts with us being gone for a few days, and we had left in a hurry, and they could sense that something was wrong with me and the urgency of our departure," Boggs told The Dodo.
When little Sonny was finally ready to come home from the hospital, Boggs and her husband had no idea how their pack would react to the new baby - but as it turns out, they had nothing to worry about.
"My husband came home the night after we had Sonny with a blanket we had swaddled him in while at the hospital. The dogs were very eager to smell it," Boggs said. "The blanket seemed to answer a lot of questions they had. When we brought Sonny home, I felt like they were expecting him. I felt like they knew we wouldn't be coming home alone. From the minute we have brought Sonny home, they have respected him and loved him as one of their own."
Now, Sonny is officially part of their sibling pack, and each one of them has their own special way of showing how much they already love him.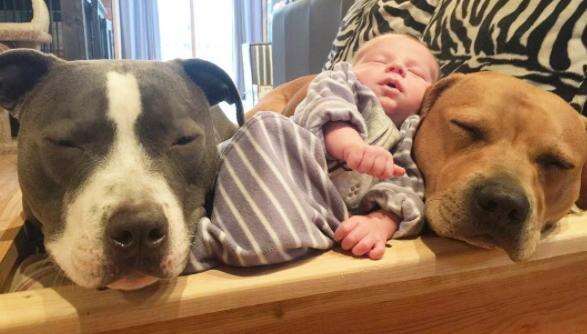 Mia, the only cat, is constantly watching Sonny from a short distance. She sits on the pillows above him while he cuddles with his mom in bed, and she watches his every move, just to make sure he's always safe.
"I think she feels her role is to watch over everyone, like a hawk," Boggs said. "That's her way of protecting us."
Roxy, the first member of the pack, loves to curl up right next to Sonny and take naps with him. She's been with her mom the longest, and seems to sense how important Sonny's arrival is in their family's life journey.
"I think Sonny has impacted Roxy the most," Boggs said. "She has seen me grow into the person I am over the years and has experienced a lot of big milestones with me, right by my side. She knows how important this one is and really shows that."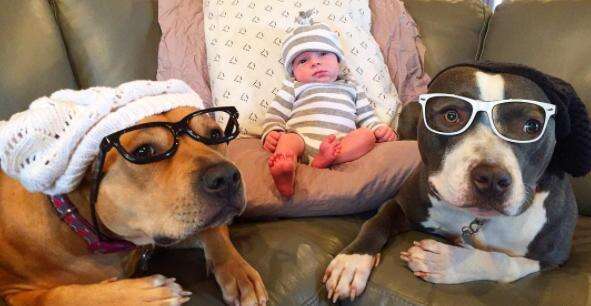 Edith and Rosie are constantly on cry patrol. They perk up whenever Sonny starts to cry, and won't go back to what they were doing until one of his parents has consoled him.
Jake, the only boy sibling in the pack (before Sonny arrived, of course), is LOVING being a big brother. His self-appointed role is feeding and diaper-changing assistant, and he takes it very seriously. He rarely misses a feeding or a changing, and of course, also loves just curling up next to Sonny and being close to him.
From the very moment Sonny arrived home, his fur siblings were ready for him, and they'll be by his side to help him as he grows up, every step of the way.
"They understand how gentle they have to be and their affection is the epitome of what every child should grow up surrounded with," Boggs said.