Earlier this year, Claire Teasdale - a young woman in her early twenties - was walking in her Brooklyn, New York, neighborhood while on the phone with her mother, when she spotted something that stopped her in her tracks.
"Mom, there's the most emaciated little pit bull tied up to a fence."
"Claire, don't - "
Click. She hung up and approached the poor pup.
The pit bull immediately welcomed her attention and snuggled up next to her as she pet her. She didn't seem to want Teasdale to let go, or ever leave her side.
BisouxClaire Teasdale
An older man approached the two of them and informed Teasdale that the dog had been tied up for over two hours. A couple of other girls had also spotted the abandoned pup and were on their way to bring her food, but didn't plan on taking her in.
Teasdale looked down at the pup and heard the echos of her mother telling her, "Don't." But, despite this advice, she decided she had to bring this dog home with her.
The pup continued to shower Teasdale with kisses, so she decided to call her Bisoux (French for kisses), or Little B for short.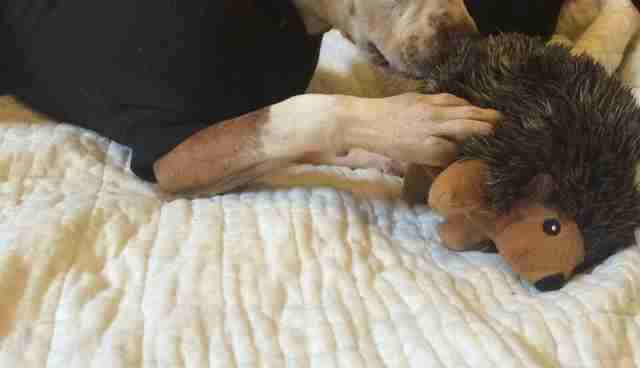 Unfortunately, the incident of Little B being tied up and abandoned is not an isolated one. "We've worked with the New York City Police department on a number of cases where dogs have been intentionally abandoned without food or water and sometimes suffering from injuries." Howard Lawrence, vice president of the ASPCA Anti-Cruelty Group, told The Dodo. "If you find a potentially abandoned animal, you should immediately contact your local law enforcement, animal control agency or whichever agency handles abandoned or injured animals in your community. Quick action could potentially save an animal's life."
Teasdale's haste to take action may have been linked to her experience with this sort of animal cruelty in the past.
Teasdale's family dog - also a pit bull, named Lychee - was a rescue who had been left outside to starve and suffer. She was found at a public pool, where she'd been tied up for over a week in late winter. Teasdale grew up with Lychee and the pair had always been close. Just like the abandoned pup she found as an adult, Lychee was affectionate and full of snuggles. Perhaps this is what motivated and inspired Teasdale to immediately do everything she could for Little B.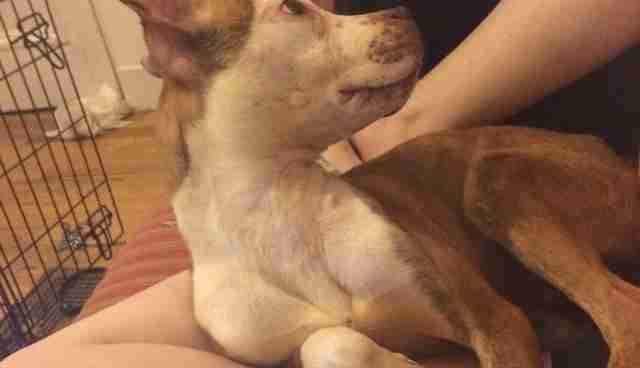 Not all abandoned dogs share the same happy ending as Little B. "Starvation causes terrible suffering and the people who abandon their dogs by leaving them tied up often cause the most torturous deaths imaginable while operating under the delusion that some good Samaritan will save the day," Scott Hieser, senior attorney and criminal justice program director at the Animal Legal Defense Fund, told The Dodo. "Most dogs tied up and abandoned die horrible deaths."
Just a few months ago, The Dodo reported on a skeletal dog that was found tied up outside of a church. Luckily, the pup was also rescued by people who did their best to make sure he found a safe home. However, not all abandoned dogs have the same luck. Many are found by people with bad intentions, and that's why it's so important to make sure you take charge when you see an abandoned pup.
Little B could have been subjected to a terrible fate. Thanks to Teasdale, Little B now has the chance to experience a brighter future.
BisouxClaire Teasdale
If you ever see a dog that you suspect has been abandoned or is mistreated, please take action. Call your local animal control office and report what you have found. For more information on how you can help, click here.