Dogs With Severe Anxiety Just Want To Find A Home — Together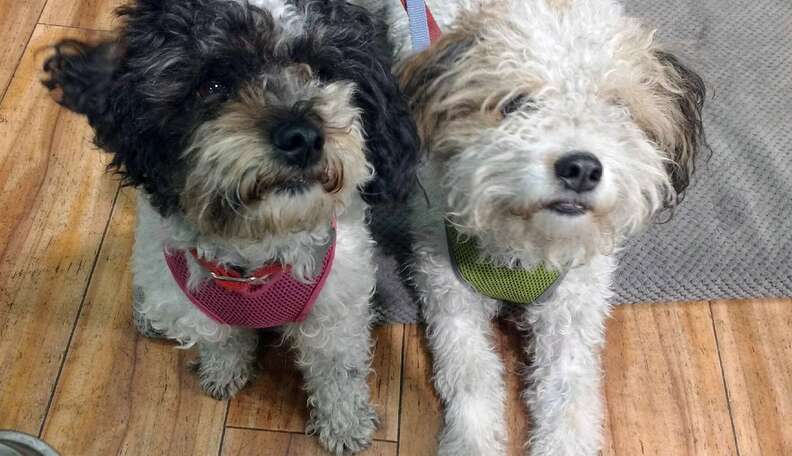 Alex and Freddy, two poodle mixes, were both rescued from a high kill shelter within weeks of each other. Both dogs were terrified, suffering from terrible anxiety ... until they met each other. From then on, everything changed.
Mighty Mutts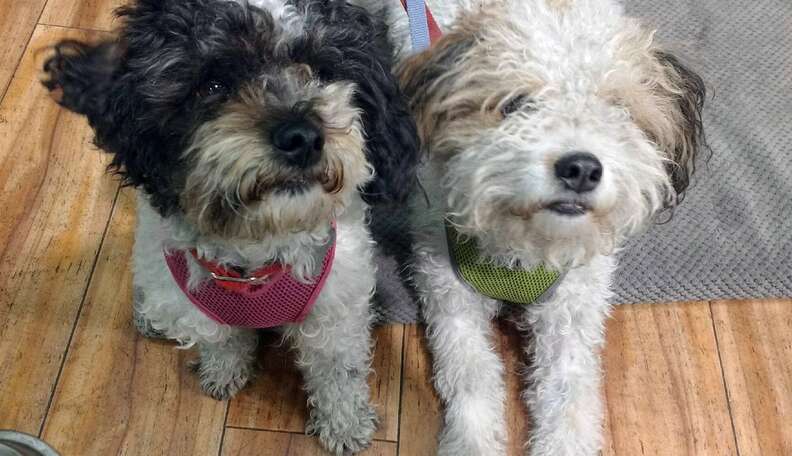 Now, Alex and Freddy are looking for an adult-only New York City home and I am desperately hoping to help them find it.
I was browsing the Mighty Mutts website one day, reading about all of their wonderful dogs, when I came across Alex and Freddy. "Special needs," their description read. "Nervous." "Need to be adopted together." These traits were echoed throughout their site bio, just two friends trying to navigate this scary world together. I immediately identified with them.
Mighty Mutts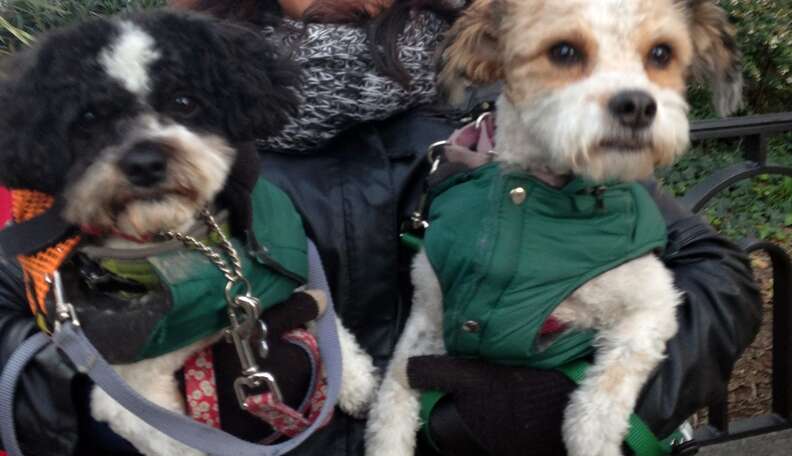 Mighty Mutts, a rescue organization in New York City, saved both Alex and Freddy just before they were slated to be put down. Alex, 5 years old, arrived into Mighty Mutts' care first, and quickly bonded with a chihuahua named Spike. When Freddy, 3 years old, was first rescued, he was so scared he wouldn't even leave his cage during Mighty Mutts' various adoption events.
"They are both fearful dogs who are prone to running away and both are known to be expert escape artists," Jill Haynes of Mighty Mutts told me when I contacted her about the pair. "When presented with new situations, such as an unfamiliar set of stairs, they cower in fear and look for a place to run."
Caitlin Jill Anders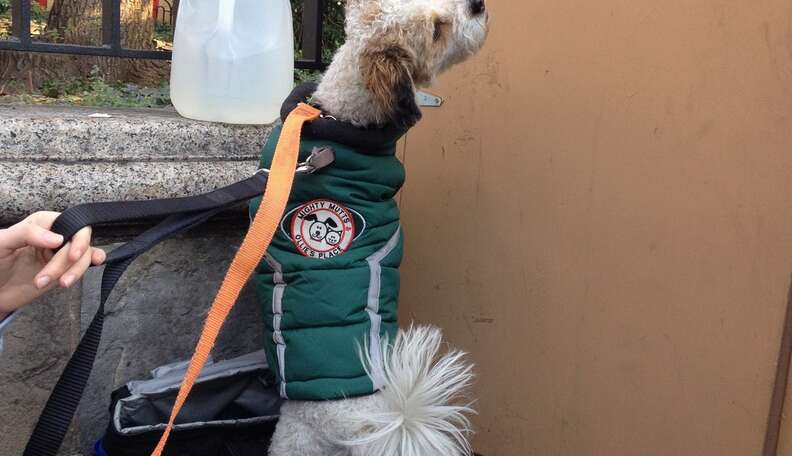 Because of their similar personalities and looks, Mighty Mutts began to showcase Alex and Freddy together at adoption drives - Alex had become lonely after his buddy Spike was adopted. People often think the pair of poodles are related, as they are both tiny, fluffy, nervous dogs. Soon, Alex and Freddy fulfilled that expectation by becoming just as close as family.
"When they go on walks together, they charge ahead, racing each other and occasionally barking at each other in encouragement," Haynes said. "If they are walked separately, they will panic until they are reunited again."
"They find strength in one another," Haynes said.
Mighty Mutts
Every Saturday, Alex and Freddy join the volunteers and other dogs of Mighty Mutts at Union Square in New York City for an adoption event, where passersby can admire them, pet them and, hopefully, adopt them. This Saturday, I had the chance to stop by and say hello to two of the sweetest dogs I have ever had the pleasure of meeting.
As I searched for Alex and Freddy amid the sea of dogs excitedly meeting potential adopters, I knew almost immediately which ones they were.
The two poodles were noticeably more apprehensive than some of the other dogs at the park that day. Alex sat in the lap of one of the volunteers, and didn't move from that spot for any reason whatsoever. Freddy, on the other hand, was a little more mobile - he anxiously moved about, hoping someone would offer him food or a little love, but also not wanting to stray far from his buddy, Alex. He constantly looked back to check on his friend.
Caitlin Jill Anders
One thing was clear as I watched the best friend pair - they are inseparable and absolutely need to be adopted together.
Many people stopped to say hello and ask about Alex and Freddy as I sat next to them. The volunteers in charge of them echoed the same sentiment over and over - they are best friends and can't be without each other.
As the crowds moved on from petting the two friends, many event attendees lovingly said goodbye and told the pair they couldn't wait to see them next week. Alex and Freddy have become a dependable constant at the adoption drives and patrons look forward to seeing them week after week - because no one will take them home.
Caitlin Jill Anders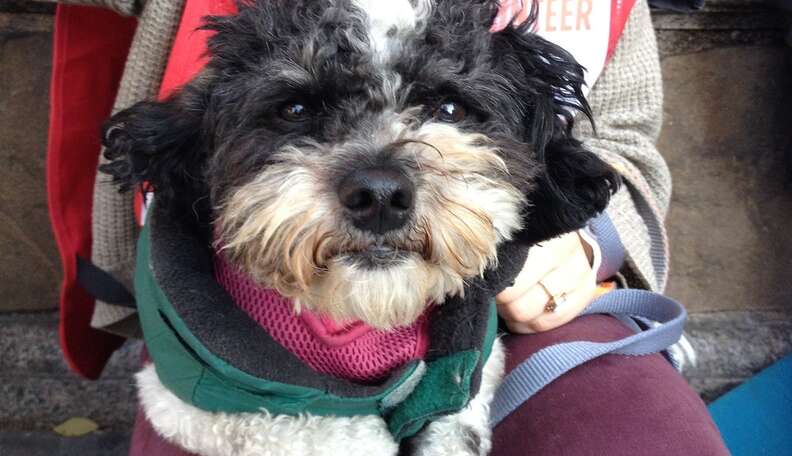 Because of their special needs, Alex and Freddy will need to be adopted within New York City into a home with no other dogs (though a cat could be OK) and preferably with adults only. Life scares these little guys a lot and they will run if given the chance - they'll never be able to be free from a leash, even in a yard, but they'd make the perfect companions for someone who works from home or spends a lot of time around the house.
Mighty Mutts
As Haynes put it, "They are not the perfect dogs, but they will be perfect for someone!"
The pair is currently being fostered together. If you would be interested in adopting Alex and Freddy, you can contact Mighty Mutts at Info@mightymutts.org to get the process started.