It's a dog lover's worst nightmare.
Two people in uniform show up at your door and say they're police officers working on a case of animal cruelty. And your dog is the victim. And you are the abuser.
After they confiscate the dog you love and treat as a family member, you call the number on the police department flier they gave you. The voice on the end of the line says the police department has no record of your case - they didn't send anyone.
This scam really happened, and is just one awful instance of hundreds of dog thefts that take place each year. And the number of stolen dogs is growing: Dog theft is up 800 percent nationwide, from 71 reported thefts in 2008 to 637 in 2014, according to data provided by the American Kennel Club. The most common kinds of dogs stolen were pit bulls, Yorkshire terriers, Chihuahuas, bulldogs, Pomeranians, Shih Tzus and German shepherds, the AKC says.
Why the spike in dog thefts?
"It can be anything," Madeline Bernstein, president with the Society for the Prevention of Cruelty to Animals, told Public News Service. "It can be somebody stealing the dog and asking for a ransom. It could be somebody who is mad at the dog 'cause the dog was barking too much. It could be somebody who feels that they could take better care of the dog. There are any number of reasons why people will do something like this."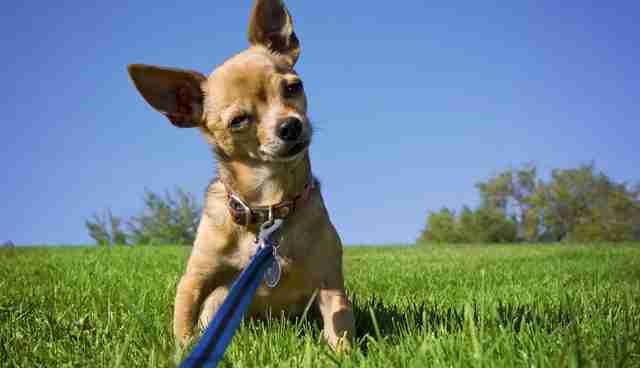 3. Avoid leaving your pup unattended outside of a store or even in your own front yard, if it's accessible to passersby. If there isn't a good place for your dog while you run errands, leave him at home.
4. Microchip your dog. This kind of high-tech homing device goes way beyond just a collar and tag. According to the ASPCA, microchipping can be the difference between temporary and permanent separation from a beloved pup. And the ASPCA urges microchipping pet owners to make sure the chip always links to up-to-date contact information.
5. Spay or neuter your pet so that dognappers can't breed her and make money by selling your pup's puppies. Desirable dog breeds who aren't fixed can end up as breeding machines, according to the ASPCA, producing litter after litter.
6. Keep a current photo of your pet on file, the ASPCA told The Dodo. This can help to identify distinguishable markings and features in case the pup gets misplaced.
It can be a scary world out there. Be safe, everyone.