No One Wanted This Dog Because He Was 'Ugly'
His new family spoils him so much — and thinks he's perfect.
Bandit looks a little different from other poodles. He was born into the home of a breeder who sells puppies to be used as show dogs. The breeder expected Bandit to come out looking a certain way, and when he didn't, she decided to get rid of him.
Stephanie Marinelli
Bandit is all white with unique markings in black, brown and gray on his face, similar to what a bandit's mask might look like. (That's how he got his name). The breeder couldn't see how special Bandit was, though, and posted an ad online saying that she needed to get rid of him ASAP.
Luckily, someone who felt for Bandit came across the ad, and forwarded it to someone who she knew could help.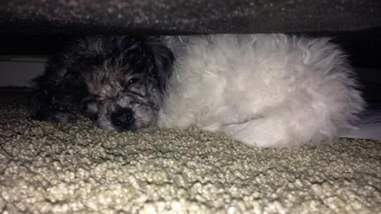 Stephanie Marinelli
"We responded to the ad and asked some basic questions about the health of the puppy and requested some pictures," Stephanie Marinelli, Bandit's new mom, told The Dodo. "The woman claimed her puppies with 'more aesthetically pleasing fur colorations' went for well over $2,000 each, and he was just the ugly duckling of the group. My dad and I drove to the woman's house where she basically gave us the dog and told us to leave."
Stephanie Marinelli
Once they got Bandit home, it was absolutely impossible to see why anyone would ever want to give him away.
"Bandit's personality is very sweet and loving," Marinelli said. "He's a little shy, but once he gets to know you, he is very playful."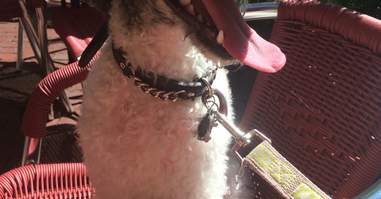 Stephanie Marinelli
Marinelli's other dog, Gracie, immediately took a liking to Bandit as well, and looks out for him and cares for him as if he's one of her own.
Stephanie Marinelli
"He's very spoiled and gets lots of attention," Marinelli said.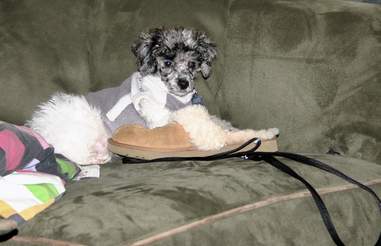 Stephanie Marinelli
Now, Bandit is 4 years old, and loves everything about his family and his life. He may have started life off as unwanted, but now his family can't imagine life without him.