Dog With Broken Legs Learns How To Walk On 2 Paws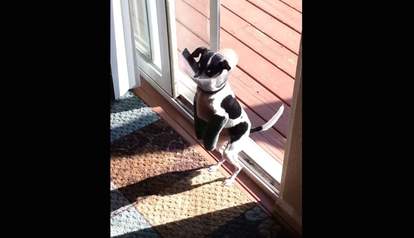 A little dog who broke her front legs appears to have adjusted to her casts by becoming bipedal. The dog was injured after falling off a deck, and though some doctors are concerned her new method isn't optimal for healing, her unique adaptation may "have to do" for now.
Not only does the little dog know how to walk on her hind legs, she's figured out how to hop over the threshold of the backdoor in order to go inside and outside.
Veterinarian Dr. Robert L. Proietto informed The Dodo in an email that walking on hind legs may not be beneficial to a speedy healing process for the dog:
When pets have fractured limbs that are in the process of healing it is important to restrict their activity so that we limit any motion in them to allow the bones to set and form a callus or heal appropriately. This is best accomplished by what we call "cage rest" where the pet is kept in a confined area so that their activity is limited.
Dog expert Megan Coryat from Doggedly Devoted suggested to The Dodo in an email that although it may not be an ideal situation for the pup, it's unlikely that the dog has another option for locomotion while in her casts:
Walking all the time on two hind legs is definitely not normal, and, depending on the dog's physiology, could have a bad effect on [her] back and hind legs--they just weren't meant to walk that way! But if that's how the dog needs to get around when [her] legs are broken, then I guess that will have to do! I imagine that the dog will need physical therapy once [she] gets the casts off.
You can watch the bipedal pup's unusual walking method below: