It's impossible to know how Maverick got these terrible, disfiguring, painful injuries.
They might be related to dog fighting, they might just have come about because the dog was simply in the wrong place at the wrong time and got attacked.
Amanda Dowell, program director for the Texas-based nonprofit Long Way Home Pit Bull Rescue, tells The Dodo the vets think, however it happened, Maverick's been living like this for a long time - with a big piece of his nose and mouth missing, his front teeth gone and nasal cavity partly exposed.
"While we are happy to know that his main wound is not painful right now, we're also saddened at the thought that he somehow got this wound and then had to fend for himself while it began healing," Dowell says. "It's a devastating feeling."
Because of his injuries, Maverick has a hard time eating. He also has cuts all over his face, chest, and shoulders - some of these seem fresh - and as if that's not all enough, which it certainly is, he's heartworm positive and may also be diabetic.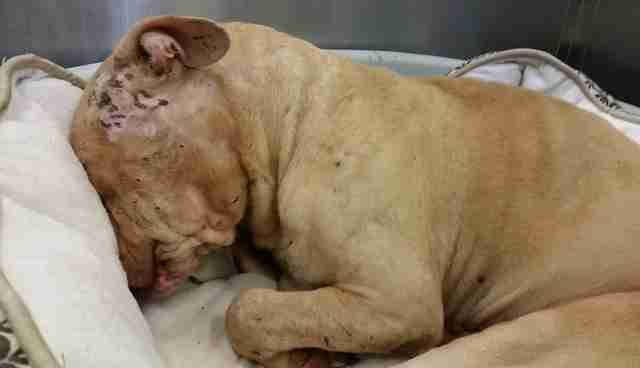 A couple of weeks ago, Maverick - in this shocking condition - was picked up as a stray, and brought to Dallas Animal Services and Adoption Center.
The shelter's veterinarians stabilized the dog, made him as comfortable as they could and went looking for a rescue group that could provide him "the time to completely heal," as DAS put it in a Facebook post calling for help.
"We couldn't believe the pain he was potentially in," says Dowell. "It was an immediate 'save him' response."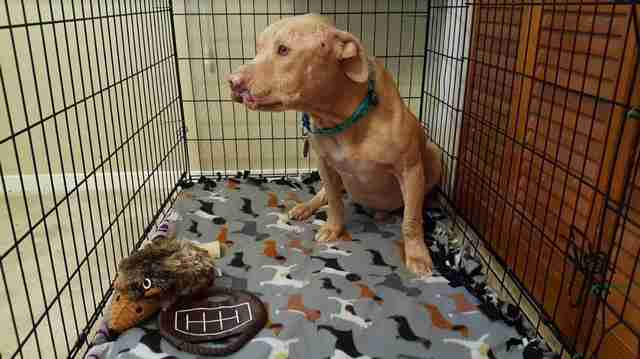 Long Way Home took Maverick in last Tuesday, and he went right to a veterinary hospital. That's where Dowell learned that Maverick had likely been living with the injuries for a while.
"A majority of the trauma to his face and nose is already in the healing process," she says.
Now Maverick is with a foster mom, the vet clinic's practice manager. She will keep him while he is healing, physically and otherwise.
There he'll learn how to eat, and will get antibiotics, heartworm treatment and vaccinations, be neutered and get lots and lots of love until he's well enough to be put up for adoption.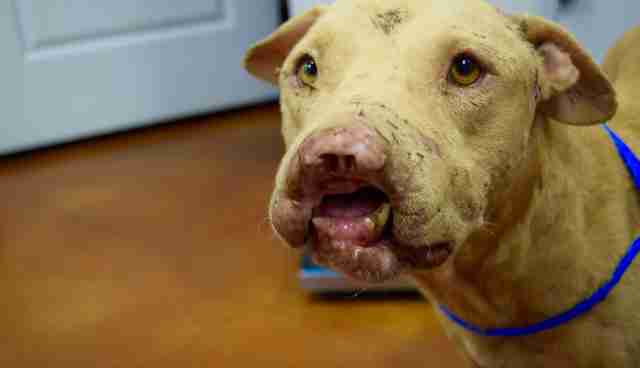 That might be a ways off. Maverick is now showing signs of kidney problems on top of his other physical injuries. And he still seems unsure and scared a lot of the time.
But Dowell is feeling good right now about the dog's future.
Maverick has been giving out some kisses, and "the occasional tail wag," Dowell says. She thinks he wants to trust his new caretakers, to learn to enjoy his safe new situation.
She thinks he'll get there.
"These dogs depend on people to take care of them. We are supposed to shelter, feed and care for them," Dowell says. "He has a long road to recovery, but one we're happy to witness."