Bride Invites Her Dog To Her Wedding — And It Couldn't Be More Perfect
She even made him a little outfit.
This is Mansi Khanna and her faithful pup, Sultan.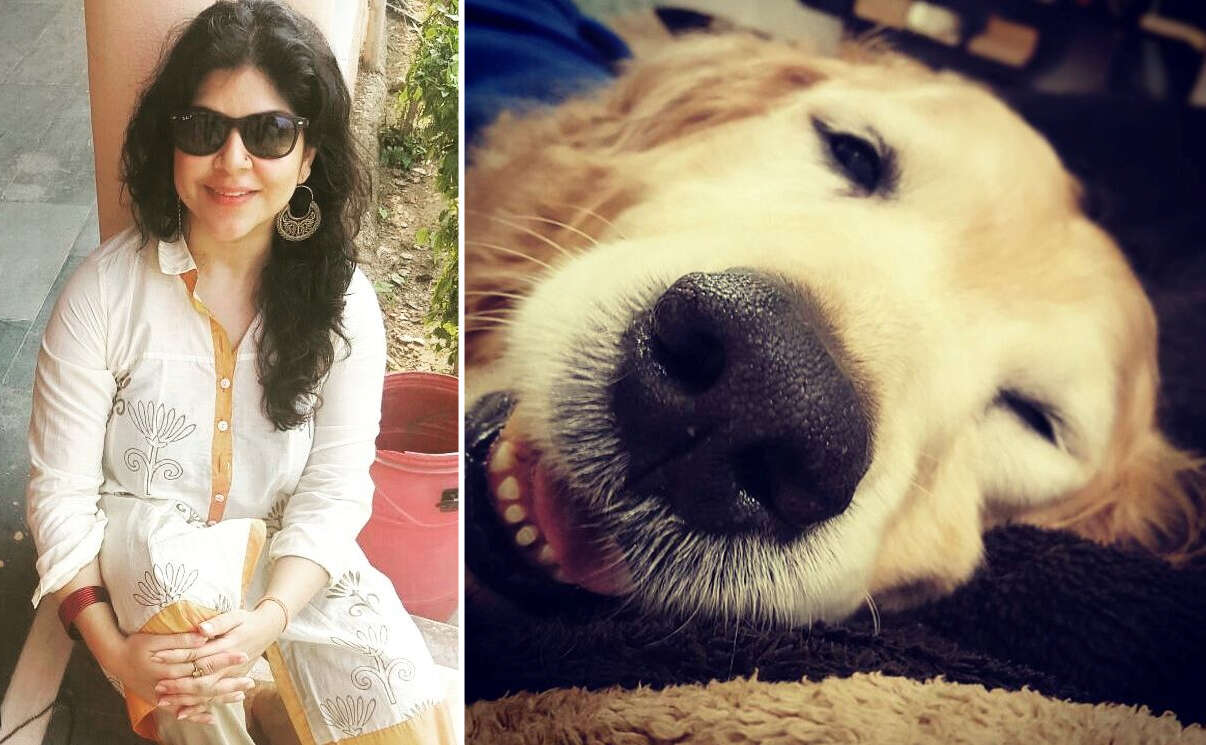 Since Mansi first adopted Sultan eight years ago near her home in New Delhi, India, the two of them have been pretty much inseparable. So, when it came time for Mansi's recent nuptials to her fiancé, Kunal, it only made sense that Sultan be by her side for that, too.
"For us, it wasn't even a big deal or a matter of deliberation or contention to have him be there as a part of our special day," Mansi told The Dodo.
The traditional wedding was gorgeous in every detail, and Sultan fit right in — in more ways than one.
Sultan was dressed in his very own sherwani, standard attire in India for such a grand occasion.
"I handpicked the material and had it stitched specially for him," Mansi said. "All of us were getting new clothes done, so he had to have his special outfit as well!"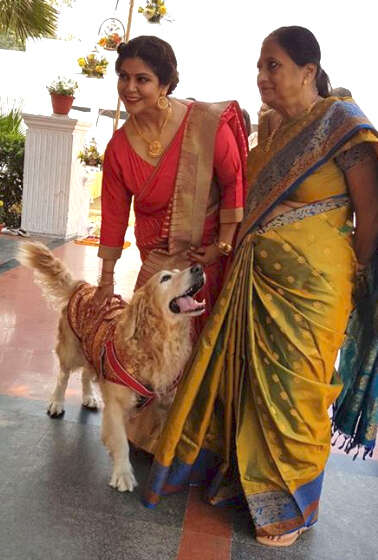 Sultan's presence for the ceremony wasn't just as another witness, Mansi said:
"He actually walked me down the aisle too!! My entry to the wedding was with him on my side. He's the best boy, and I told him that! And he wagged his tail and gave me another lick on my face!"
As is custom during Indian weddings, an exchange of vows is followed by a ritual called the "pheras," wherein the bride and groom walk together around a holy fire to symbolize their union.
And sure enough, Sultan joined Mansi and Kunal during that part, too.
"For us, it was like him saying he will be there, and that he has our back for everything we do," Mansi said.
As the wedding progressed, it only got more adorable.
"Sultan not only took the pheras, he also happily lapped up the leftover yogurt that I had fed Kunal as a part of the ceremony," Mansi said. "He was also there to eat the sweets that Kunal fed me as a part of the ritual. Basically, at all significant moments, he made his presence and participation felt."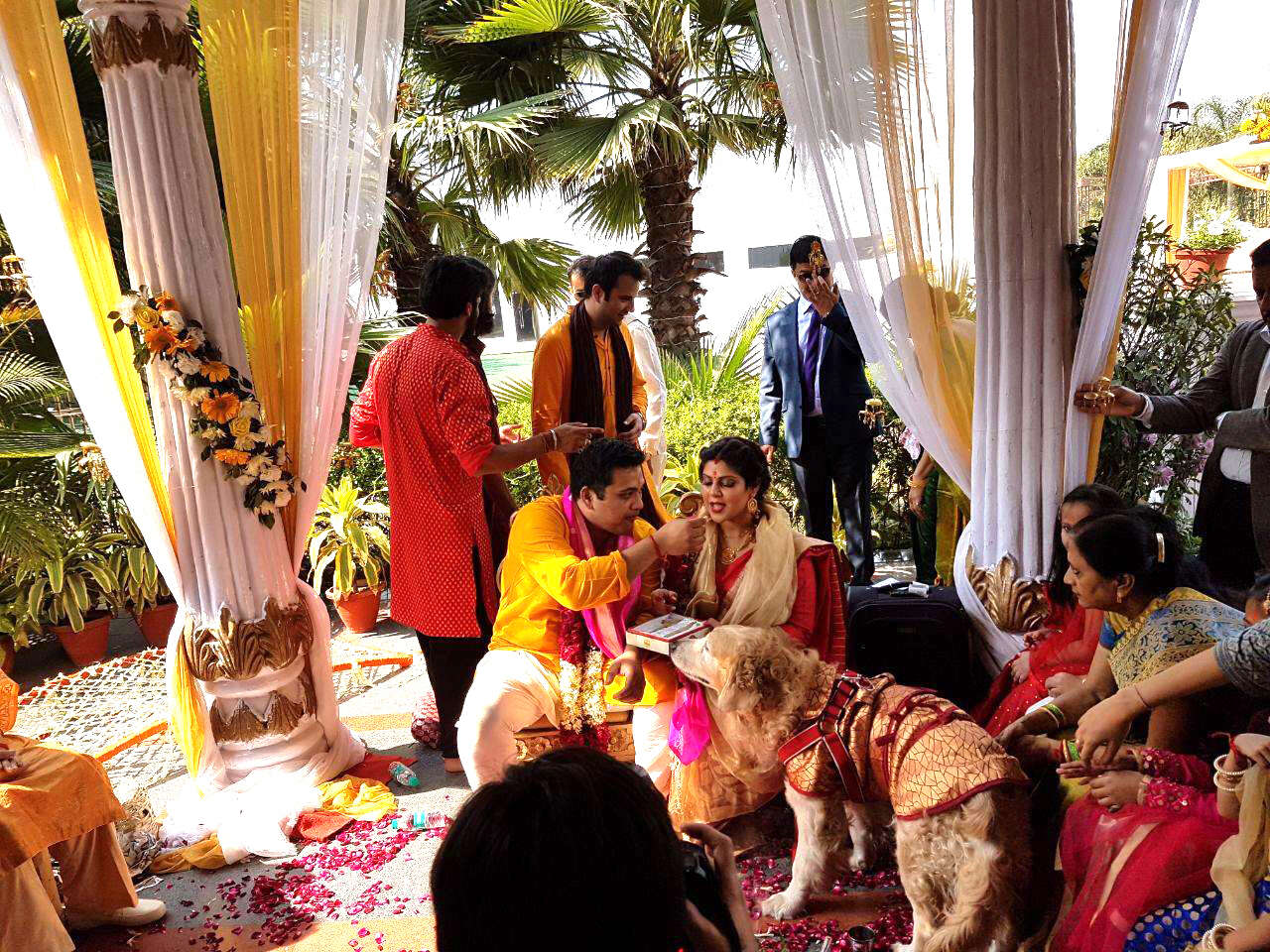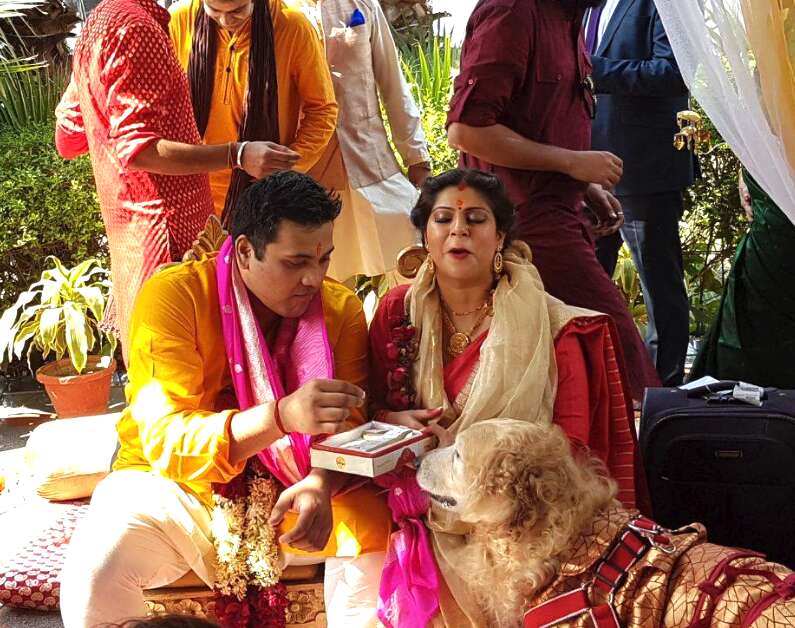 Of course, it wasn't just about free snacks for Sultan. The well-dressed pup seemed to relish the fact that he'd been welcomed to be a part of such a cherished occasion.
"He shook his paw with all guests who came, and was nicely moving around with his tail wagging, mingling with the crowd," Mansi said. "It's like he knew how to play a good host. He was just happy being a part of it all."
Even Kunal was happy to share the spotlight with Sultan on the couple's big day:
"As my husband tells me, 'Sorry baby, I love you, but I love him more,'" Mansi joked. "Sultan just made our day so very special with his antics."
The newlyweds hope that, by sharing the story, others will be inspired to think of their pets as true members of the family, and include them more in life's biggest events.
Sadly, there is one big event that Sultan is having to miss out on — but his parents have found a way to make up for it.
"We are on our honeymoon in the Maldives," Mansi said. "In fact, we were just video calling with him. He's been quite upset he couldn't come with us."