Dog Has Been Waiting Almost 7 Years For A Home
She lost her original owner when he went into the hospital.
No one knows exactly how long Rayne had been standing on top of her doghouse in a flooded Southern California yard.
The neighbor who reported the dog said her owner was admitted to the hospital three weeks earlier. Since then, the rain kept falling.
"She was chained to a doghouse and the yard started to flood," Kendra Andrews, foster coordinator The Barking Lot, told The Dodo. "So to escape the flood, she jumped on her doghouse."
That's how the rescue group found her, an island of despair amid a sea of neglect.
Rayne's owner, still in the hospital, agreed to surrender the dog.
And so, it seemed, the wait was finally over for this 3-year-old dog.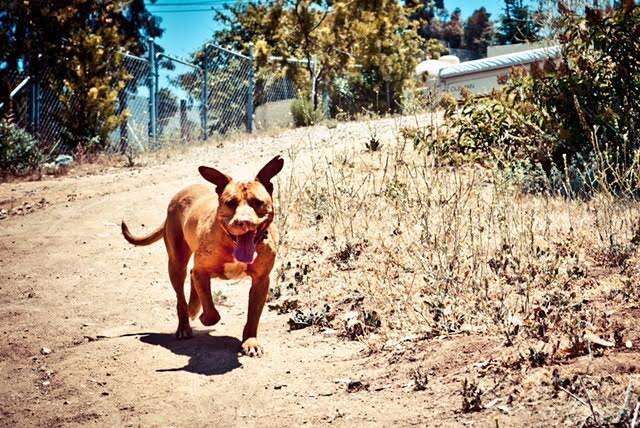 But no one imagined Rayne would spend more than half of her life waiting for another kind of lifeline.
"We've had her for six-and-a-half years and she's never been adopted by anyone," Andrews says. "It really stinks because she's a really great dog."
When Rayne was first rescued, The Barking Lot didn't have its own kennel facilities, relying instead on a network of foster families to keep rescued dogs until they found a home.
"At some point, she was boarded for a week while someone was on vacation, and while boarding, a dog bit her through the kennel wall," Andrews explains, "and pulled a piece of her cheek off.
"She's missing a little flap of skin."
That disfiguration, although minor, would stay with Rayne - maybe, Andrews suspects, discouraging potential adopters. Then there's the fact that she's a pit-bull-type dog, which comes with its own entirely undeserved reputation.
Rayne, who spent her earliest years in solitude, hasn't quite gotten over the idea of other dogs.
"A lot of volunteers take her home for weekends," Andrews says. "The thing is most of our volunteers have multiple dogs at home. So it's hard when you're a volunteer to foster or adopt her because she's dog selective.
"With proper intros and the help of a trainer, we all think she could share a home with another dog."
Still, at nearly 10 years old, Rayne embraces every chance she gets to be a dog.
"We'll take her out on hikes," Andrews says. "We'll take her out on outings. But she does live in kennel."
If good things do indeed come to those who wait, then Rayne deserves the very best thing: a forever home.
Think you can help?