Man In Coma Responds When His Dog Comes To Visit
"I like to think that was him saying, 'Hello little one, now we can say goodbye.'"
Last month in Italy, this elderly man named Giovanni suffered a heart attack while out for a walk with his dog, Nancy. Paramedics arrived in time to resuscitate the 73 year old, but he fell into a coma after arriving to the hospital.
Nancy, who'd watched as the ambulance took her lifelong companion away, was heartbroken.
In the days that followed, with Giovanni in a vegetative state in the ICU, Nancy never gave up hope. Under the care of the man's daughter, Deborah, the little dog held vigil by the front door awaiting Giovanni's return.
It was around this time that Deborah learned about a new program offered at the hospital which allows patients to be visited by their pets. With that, Giovanni and his dog were soon reunited - but no one could have expected what happened next.
When Nancy entered the room and was placed by Giovanni's side, it elicited a response in him not seen since he entered the coma. His body began to stir in gentle convulsions, as if from excitement about his dog's presence.
Nancy, meanwhile, wagged her tail.
"She stayed close and kissed my father," Deborah tells The Dodo, adding that his expression changed in that moment, like he was going to cry. "I like to think that was him saying, 'Hello little one, now we can say goodbye.'"
Here's video capturing a portion of that touching moment.
Sadly, Giovanni is not expected to awaken from the coma, and will soon be transferred to a long-term care facility, but Deborah says he appears to be more at peace since being visited by his dog. Nancy, too, has been happier since the visit.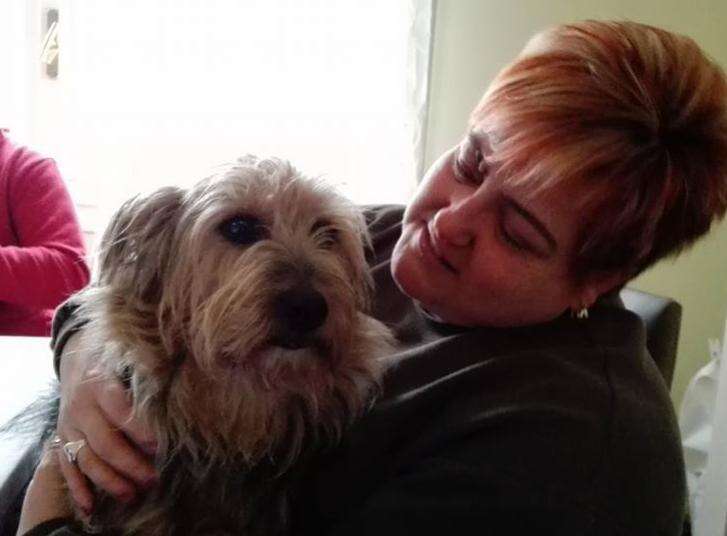 For Valli Calzavara, who helps coordinate pet visitations at the hospital, the benefits of such a program are evident in Nancy and Giovanni's reunion:
"It benefits both patients and pets," she told The Dodo, "because the human-animal bond is one of pure and inseparable love."