What Happens If You Break Into A Hot Car To Save A Dog?
It's a question that haunts us every time we pass a car on a sweltering summer day with just one lonely occupant: a dog.
Do we intervene? After all, dogs don't always cry for help when they're gasping for air.
And, in too many cases, we've seen the tragic outcome.
We've also seen the downright life-affirming relief of a puppy freed from a car.
And who could forget the man who hurled a rock through a car window at a concert to get this little bundle to safety?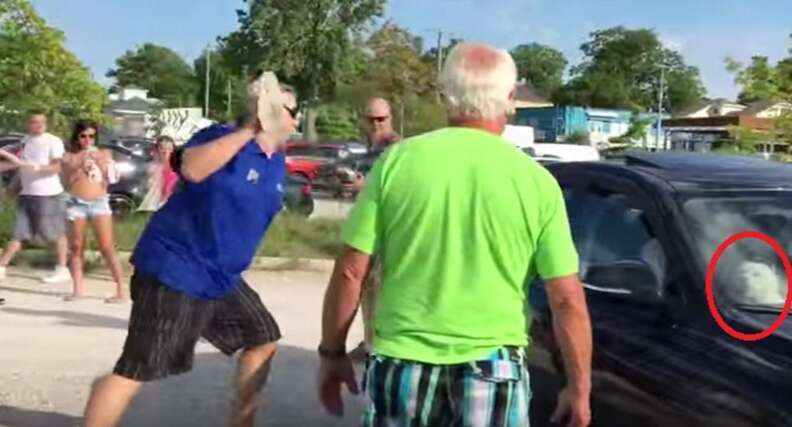 For many of us, a dog in a hot car is hero time. But it could also be lawsuit and litigation time.
That's why, even in the heat of rock-hurling heroism, it might be wise to first consider the advice of an expert in these matters.
Jeff Pierce, legislative counsel for the Animal Legal Defense Fund, has a few tips for potential rock-hurlers - and lifesavers.
If you happen to live in Florida, Tennessee or Wisconsin, consider yourself fortunate. These states have what's called a Good Samaritan law, essentially protecting people who damage property to save a life.
"If our hero was in any of those states then, with a completely clear conscience and no anxiety about how the owner of that car or animal might respond, he can hurl that rock to save that animal," Pierce tells The Dodo.
But no matter where you live, it's important to follow a few key steps.
If that proves impossible, he says, then "the obvious next thing to do is call law enforcement, or in some cases, animal control or a humane officer or the fire department."
"These are the people empowered in most jurisdictions to save an animal," Pierce says.
If they don't respond or are unable to respond right away, and you're in a state where you can legally break the window, Pierce warns that you still "want to use only as much force as necessary."
Even after freeing the dog, you should stay at the scene until authorities get there.
And if you're not in Florida, Tennessee or Wisconsin?
You might still opt to break into that car. After all, this is a life we're talking about.
What then?
You could face criminal charges.
And you can never predict the mindset of an irate dog owner who returns to a smashed car window and a circle of strangers calling him a villain.
"If you break a window, you are suggesting the owner has behaved in a neglectful or even cold manner," he says. "A lot of people bristle at that suggestion."
So, you might get sued - or worse.
"Keep in mind the possibility that someone might not only be sued by the dog's owner, but might be prosecuted by law enforcement and the district attorney for, say, vandalism or property damage," Pierce says. "It would be politically unlikely for a prosecutor to invest resources in a case like that. But it's possible - especially if the person didn't take the kinds of precautions that I described."
But even outside of those Good Samaritan states, there's a good chance the court will side with you, according to Pierce.
"It's possible that a court would consider that a person who behaved in that manner acted rationally and reasonably," he says. "And that the value of the animal's life is rightly to be privileged above the cost of replacing the window."
The good news is the legal climate for dogs in cars is changing.
The California legislature is currently mulling a bill that would go even further than laws in Florida, Tennessee and Wisconsin. Basically, you could neither be sued in civil court nor charged by an officer for breaking into a car to rescue a dog.
New York also has a bill pending, as does Pennsylvania - although in Pennsylvania, the law would fall short of a license to smash windows.
Only first responders would be allowed to break into a car, but that list of responders would be expanded to people like mall cops and stadium staff - often the people who notice dogs trapped in cars in the first place.
The trouble is, right now, few states - just 21 - have laws dealing with dogs in hot cars, according to Pierce.
"I think it is gaining some national traction and yet it's still not the norm," he says.
And even fewer states recognize the rights of non-dogs. Pierce says the laws in Maryland, Minnesota and Nevada, for example, apply only to cats and dogs.
"If you're a rabbit in a hot car, that rabbit doesn't enjoy the same kinds of protections," Pierce adds.
Want to support laws in your city or state? Get in touch with your state or local lawmaker here.
And if you see a dog in a hot car, consider these tips before you smash.