Fiesta doesn't have an easy time relaxing around people - the brown pittie, who lives at Best Friends Animal Society's Utah sanctuary, tends to be timid and reserved, afraid to play and be silly.
"Fiesta was pretty shut down, with a lot of cowering and time spent with her tail between her legs," Temma Martin, a spokesperson for Best Friends, told The Dodo.
YouTube/BestFriendsVideos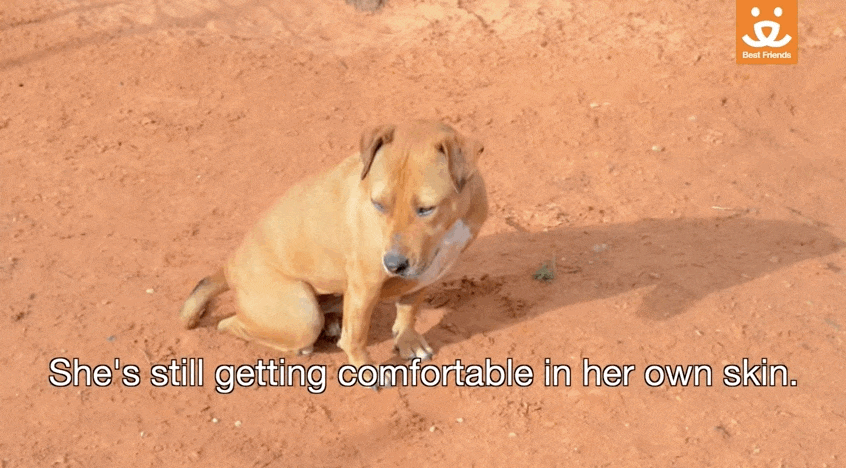 Fiesta wound up with Best Friends after she was rescued from a dog-fighting ring in San Antonio, and her past left her with some scars that made it hard for her to relax ...
... until one day when her caretakers realized that putting on an outfit changed Fiesta's personality entirely. As soon as she had clothes on, she transformed into a confident, goofy pup!
YouTube/BestFriendsVideos
Something about wearing a special outfit makes Fiesta really come out of her shell - and turns her into the dog she can be.
"Caregivers did a great job of figuring out what made Fiesta comfortable and helped her come out of her shell, which obviously includes putting on clothes," Martin said.
YouTube/BestFriendsVideos
Fiesta has some medical issues - she suffers from a blood disease called babesiosis, which is common in dogs used for fighting. She was briefly adopted in 2014, but her new family couldn't afford her medical care, so she's back with Best Friends and still waiting for the right home.
YouTube/BestFriendsVideos
Fiesta's caretakers plan to let her dress up whenever she wants - so for now, every day is Halloween. To learn more about how to help support Best Friends' lifesaving work, check out its website here.
Watch Fiesta's whole video below: