Dog Tracks Down School Where His Human Works, Demands Belly Rubs
The cutest ❤️
<p><a href="https://www.facebook.com/HHSSRO?fref=ts">Facebook/Hingham High School SRO</a><span></span></p>
Skippy knows that his human has to go to work during the day. Skippy doesn't care.
On Tuesday, the lovable Beagle mix was spotted wandering the grounds of Hingham High School, in Massachusetts, after somehow managing to track down the place where his owner, Carol Marshall, works as an English teacher.
"He was walking around the building trying to get in the doors," Tom Ford, a police officer stationed at the school, told The Dodo. "Someone let him in the building, but we didn't know who he belonged to at first. Then someone on staff recognized him as Carol's dog, Skippy."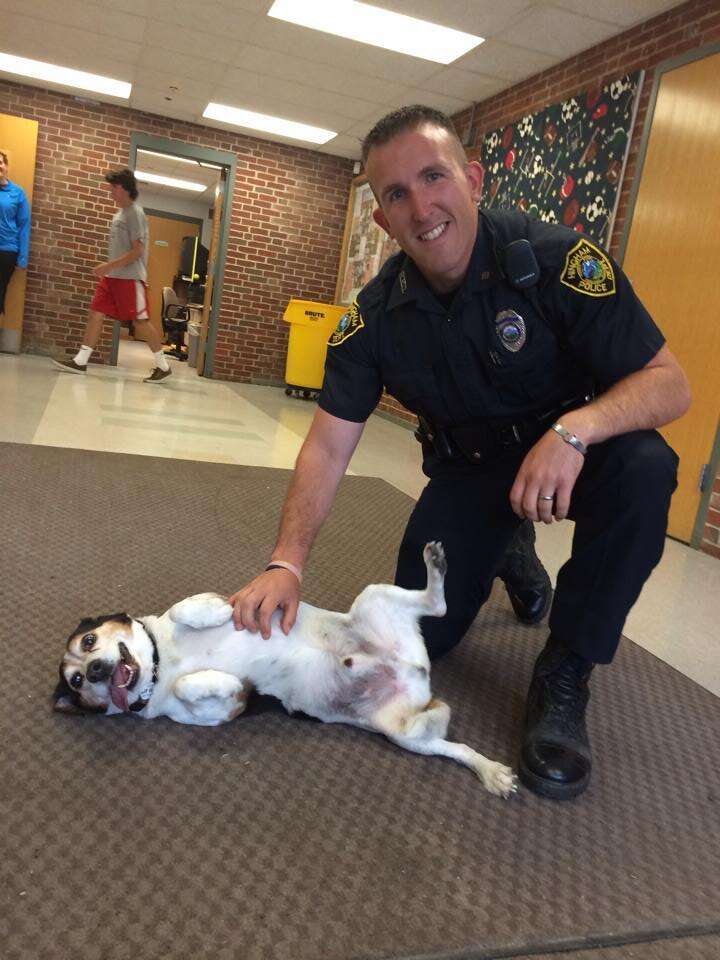 Marshall was teaching a class at the time, so Ford was dispatched to detain the tail-wagging intruder. It soon became clear what drove Skippy to make the uninvited visit - belly rubs.
"He wasn't asking. He was demanding," Ford said. "He's very friendly."
Apparently, this isn't the first time Skippy has made a surprise appearance at the high school after escaping the house he shares with Marshall nearby, and it probably won't be his last. Ford says that the staff loves him, and his dedication to stopping in for a visit just goes to show that the feeling is mutual.
"We're not supposed to have dogs in the building, so we can't encourage it," said the officer. "But obviously, we don't have many issues with him. He's always welcome back."