Puppy Thrown Off Roof In Viral Video Begins Her Recovery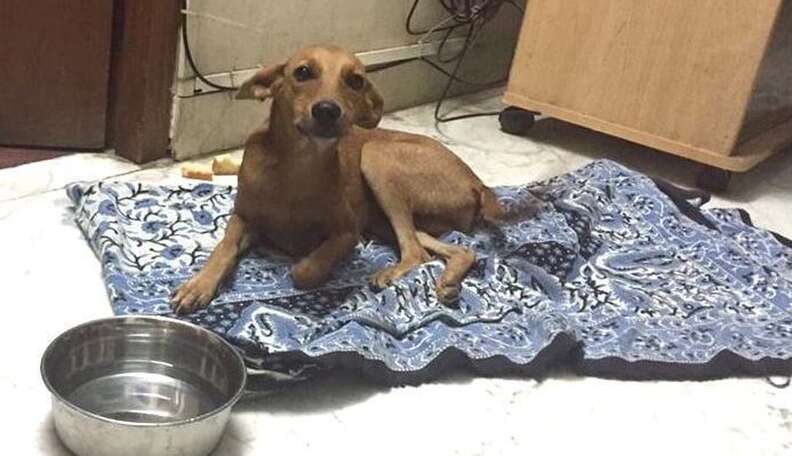 <p><a href="https://www.facebook.com/photo.php?fbid=10157143513590252&set=a.419881840251.376688.509295251&type=3" target="_blank">Facebook/Antony Rubin</a><span></span></p>
For a dog named Bhadra, her name - which means "blessed" in Hindi - is no exaggeration.
On Monday, the internet ached for her after a video of her being cruelly thrown from a rooftop went viral. The incident itself reportedly took place two weeks earlier in Chennai, India.
In the disturbing video, a man grips the small dog by the scruff of her neck and back. He takes one look into the camera, smiles and then tosses her. The sickening act is rendered in slow motion. Her piercing cries after hitting the ground are indescribable.
It was believed that Bhadra had fallen to her death - until Tuesday, when Shravan Krishnan, an animal rights advocate and cofounder of Hotel for Dogs, posted on Facebook incredible news: Bhadra was alive.
She was discovered by Krishnan and officials who visited the area where she was thrown. They were following up on her story with neighbors, who had contacted officials to check on the dog and take her in for medical treatment.
In a follow-up post, Krishnan said when he first picked up the dog, she was "shivering" and urinated on herself out of fear. "She is not able to walk properly," Krishnan said in the post. "What breaks my heart is that she was still wagging her tail."
It was then that Bhadra was given her name, along with the appropriate hashtag #BhadraTheWarrior.
"She has sustained fractures in two places: her right hind leg and her spine," Krishnan wrote in a recent update. "She is still in a state of considerable shock and is not being difficult to treat, and recovery is expected to take 4-6 weeks as she is still quite young; in fact, not more than 5 months old."
Bhadra's veterinarians have also confirmed that she is in fact the same dog from the video, as her injuries are consistent with the fall she endured.