'Trash Bag' Thrown From Truck Turns Out To Be A Dog
Florie Oconitrillo, a university teacher in Costa Rica, was driving behind a truck over a bridge when she saw something fly from it. It landed on the edge of the bridge, just barely avoiding a drop down to a raging river.
"At first she thought it was a white trash bag," Charlie's Angels Animal Rescue of Costa Rica wrote on Facebook.
But then the white thing started running.
Luna, as the dog would come to be called, was running behind the truck from which she'd just been thrown, trying to keep up with her owners, despite what they'd done to her.
Luckily, Oconitrillo pulled over and caught up with the dog. She scooped Luna up and took her to get help.
When rescuers saw Luna, they were amazed she could run at all. "Her fur was so matted, she had a hard time to run," Charlie's Angels wrote on Facebook. "The fur of her tail and back legs had grown together. She must have been chained up her whole life."
And to add to that, Luna's condition was critical. She was highly anemic and undernourished, and she had a high fever.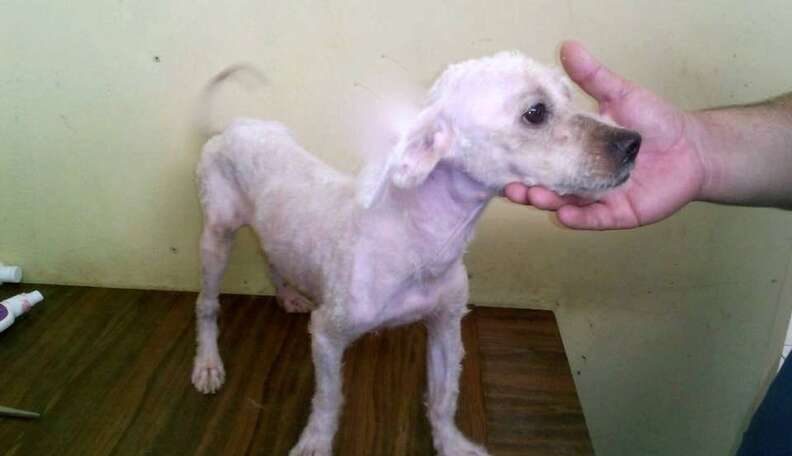 But, thanks to donations to Charlie's Angels, Luna's vet bill was totally covered. And soon Luna was healthy again - healthy enough to meet her new best friend.
"Luna's story is a great transformation," Tania Cappelluti, cofounder of Charlie's Angels, told The Dodo.
Now she has a home with a boy who loves her, and the kind of life she always deserved.
We may never know why little Luna was treated so terribly before.
But one thing's for sure: Those days are over.