Dog Who Survived Being Shot Never Has A Bad Day
"He enjoys life so much. I've never seen him sad."
A 2-year-old dog named Barkley is living comfortably with his family now, but he spent the first year of his life on the streets of Serbia.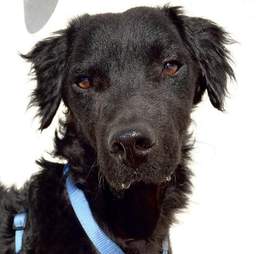 Julia Jasicek
Barkley, also known as Barkley the Jawless by his Instagram followers, was rescued by Lilly Dukic in December 2015, after suffering a gunshot wound to the face. Dukic quickly rushed the Spanish water dog mix to a nearby vet for help. Although it is unknown why he was shot, his life might have ended there had it not been for Dukic. Instead, his life could finally begin.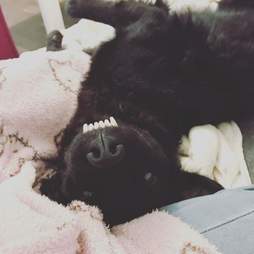 Julia Jasicek
Julia Jasicek of Vienna, Austria, was scrolling through Facebook one Saturday evening when she came across Barkley's heartbreaking story. Though she already had a 9-year-old West Highland terrier named Abbey, she simply couldn't get Barkley out of her mind. "I saw his pictures and it made me so sad," Jasicek told The Dodo. "I thought, 'OK, I have the money for vet visits. I have enough time, and, hey, two dogs are better than one.'"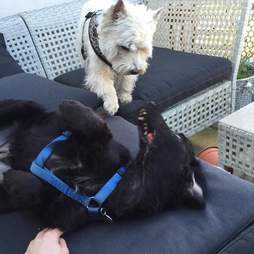 Julia Jasicek
Barkley had six surgeries in Serbia, and was confined to a small crate for four months to limit his movements and allow healing from his injuries. Once his health was restored, Barkley was finally about to find a home to call his own - and Jasicek knew that home would be hers.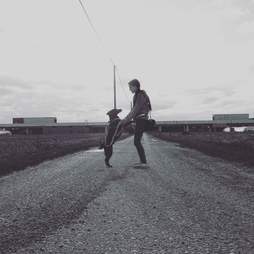 Julia Jasicek
Jasicek contacted the rescue group that had posted Barkley's pictures, which put her in touch with his rescuer in Serbia, and she began the process of getting him to Austria. Even after learning that Barkley had lost the majority of his lower jaw and tongue, Jasicek was not deterred. Barkley officially moved in with Jasicek in April 2016.
Julia Jasicek
Since then, Barkley has been spoiled rotten and is loving every minute of it. He needed a little time to adjust to his new sibling Abbey, but now they are the best of friends.
"He enjoys life so much," Jasicek said. "I've never seen him sad."
Barkley cuddling with one of Jasicek's friends

| Julia Jasicek
Although he's a happy pup, Barkley does have a few fears left over from his previous life. Some of them are typical of dogs who have lived on the street, such as loud noises and sticks.
Others are more unusual, such as his fear of glass ceilings, mirrors and light reflections - "like the light of a torch on the wall," Jasicek said. "That scares the crap out of him." Barkley spent a lot of time looking up at the sky on walks during his first month, leading Jasicek to believe that perhaps he had experienced things being thrown at him from above.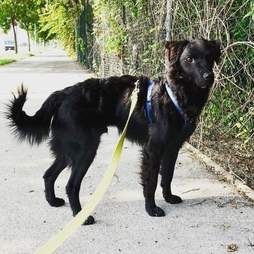 Julia Jasicek
Barkley is also afraid of other dogs, except Abby and a few friends, which could be related to the number of strays he likely encountered during his time on the street. Serbia is notorious for having an overabundance of stray dogs, and doesn't have enough rescue organizations or shelters to keep up with animal overpopulation. In 2011, government officials estimated roughly 15,000 dogs were living on the streets - but that number could actually be closer to 50,000, according to the Washington Post.
Julia Jasicek
However, Jasicek and Barkley are working with a trainer on his leash aggression. He has made amazing progress, but is still overwhelmed by too many dogs and can be nervous in dog parks. Instead, Jasicek has rented out a private garden with an agility course where he learns new tricks and has lots of room to play and run.
"His favorite hobby is rubbing himself from tail to nose on the floor," said Jasicek. If it's too cold for them to go outside, they focus on intelligence training indoors, and use chairs and the couch for agility exercises.
"He's extremely clever," Jasicek said of the rescue pup. For instance, eating is a little more difficult when you only have a sliver of a bottom jaw and a few teeth left. Jasicek spent the first few months hand-feeding the dog, but Barkley has since discovered that if he pulls the food onto his paw and lays his head to the side, he can feed himself just like any other dog. Well, almost like any other dog.
Perhaps Barkley's cutest physical attribute is the tongue that hangs out of his mouth. His "derp" is just another reason his mom loves him so much.
Julia Jasicek
After months of training and hard work, Barkley has become a "superdog," according to Jasicek, and is even more trained than her Westie, Abbey.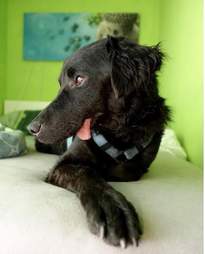 Julia Jasicek
Barkley hit the jackpot when she found his picture that Saturday night on Facebook. If there's one message she wants to spread, it's to "give disabled dogs a chance."
You can continue following Barkley's and Abbey's adventures on their Instagram accounts.