Dog Who Can't Walk On Her Own Just Learned To Play Fetch
<p>Kyle McDougall<span></span></p>
Her life had scarcely begun before she was in a fight to keep it.
At just 5 weeks old, someone in a northern Ontario community inflicted a grievous injury on Gem.
"She was just a little tiny puppy," Kim Tamminen, founder of Paws for Love Dog Rescue, tells The Dodo. And unfortunately there was a known animal abuser in the area. Such a defenseless creature didn't stand much of a chance.
Gem suffered a severe spinal injury and lost movement in both rear legs.
Paws For Love Dog Rescue
Gem's life would have likely ended where it began just a few weeks earlier had another resident not intervened and contacted the Northern Reach program, an organization that helps dogs in remote communities.
And that group connected with Tamminen: Did her rescue have space for another dog?
"At that time, we didn't have a clue what we were dealing with," she recalls. "I said, 'No problem.'"
Gem was flown to Thunder Bay, Ontario, where Paws for Love is based.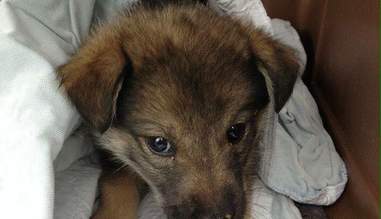 Paws For Love Dog Rescue
"She wagged her tail when she came in," she says. "If you look at the size of your hand, that's how big she was."
Countless X-rays followed, along with acupuncture, chiropractic procedures and a battery of veterinary treatments.
Gem was also outfitted with a special mechanical wheelchair that allowed her to pull herself on her front legs.
But Tamminen realized Gem needed more.
"We did everything that was offered here for her," she says. "But it wasn't enough to keep her going. We just don't have the equipment up here."
And so Gem was once again on the move - this time to Carter's Forever Rescue & Sanctuary in Bracebridge, Ontario.
And given the opportunity, Gem ran with it.
A video posted to Facebook last week shows Gem chasing every dog's ultimate prize, a stick.
Kyle McDougall
"It's been a big learning process for everyone, but she is such an amazing dog," McDougall wrote in a Facebook post. "I spent some time this morning with her outside in her cart. I can't get over how quick she is. She definitely likes to play catch. I can see this becoming a routine."
She isn't just spinning her wheels, of course. Gem is racing down the road to recovery and getting stronger every day.