Dog Who Was Terrified At Shelter Gets The Best Foster Home
"She is learning that there are really good people in this world."
When June Cash's former owner surrendered her to a shelter in North Carolina, it broke her. She had no idea it was coming, and all alone in her kennel with no idea why she was there, June was terrified.
June was so scared of all the new noises and smells at the shelter that she refused to move away from the corner of her kennel. She spent her days just staring at the wall, unmoving, until finally, someone noticed her.
Tammy Graves
Tammy Graves, president and founder of the Haley Graves Foundation, was at the shelter evaluating dogs for a partnering rescue when she passed June. The sight of the poor dog just lying there, defeated, was too much for her to stand, and she knew right then that she had to help her.
Graves posted a photo of June Cash to Facebook, and the post was shared over 130,000 times. Everyone who saw her plight was desperate to help.
Tammy Graves
June was on a hold for a few days at the shelter, and volunteers from the Haley Graves Foundation continued to visit her and keep her company during that time. Finally, the day came - June left the shelter behind forever.
Tammy Graves
"She was scared leaving and is just learning to trust people," Graves told The Dodo. "Every day she comes a bit further."
Tammy Graves
June was immediately rushed to the vet, where she was diagnosed with a severe case of heartworms. She was still extremely nervous, but slowly began to warm up to the people who were trying so hard to help her.
Tammy Graves
"She is learning that there are really good people in this world," Graves said.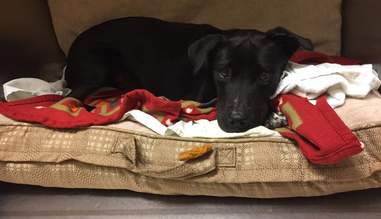 Tammy Graves
June Cash is now at her new foster home, and is making progress every day. She won't be up for adoption until her medical condition improves and she can be evaluated behaviorally. For now, she's enjoying being in a safe, happy home, and will hopefully never know anything less ever again.