For nearly a decade, Bridget the dog had waited and waited, hoping to simply find someone to love her. Now, her long wait is over.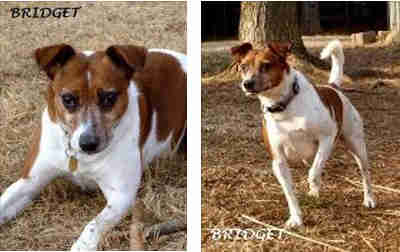 The sweet but timid rat terrier was around 2 years old when she first wound up at the Animal Care Society in Louisville, Kentucky. Although she was playful at first, eager to begin a new life as somebody's pet, Bridget's happy spirit seemed to dampen with time - though it's hard to fault her for that. As the years dragged on, the dog kept being overlooked by potential adopters who seemed to prefer more recent arrivals with a bit more pep.
"They want the dog that is running up to you, licking you, happy to see you and some people can't see beyond that," Bunny Zeller, shelter director of the Animal Care Society, told local news station KPHO.
The perfect fit for Bridget would be someone who could see beyond her malaise to discover the joyful spirit that lay dormant inside her. It took nine years, but that person finally came.
Earlier this summer, a woman named Sheri met Bridget and decided she would be the one to give the dog a home at long last. The process was a long one, writes the shelter on Facebook, but the extra effort was oh, so worth it:
"Bridget's adopter visited the shelter many times over the course of several weeks, going on walks, spending time, & getting to know each other. We have been holding our breath hoping that Bridget would finally get the happily ever after she deserves. Today that wish came true. Today Bridget left our shelter with her new mom & we could not be happier for her."
To learn more about adopting a pet, visit your local Humane Society or ASPCA.
Want to spoil your pet? Enter to win an exclusive Dodo giveaway of $1,000 to Thrive's pet market.