Shelter Dog Who Survived Gunshot Wound Finally Gets A Real Family
"He just makes people happy."
Sometimes, a dog comes along who wins over so many hearts at the shelter that staff and volunteers have to take a deep breath before sending him off to his new home.
Longmont Humane Society
Make no mistake, when Beefcakes finally found his forever family this week, everyone at the Longmont Humane Society in Colorado cheered for the dog who had come such an impossibly long way in their care.
But for an organization that helped the dog pick up the pieces of his life, it was a bittersweet farewell.
When Beefcakes first arrived, he seemed every inch a broken dog. His face, having suffered a gunshot wound at close range, had to be practically put back together.
But when it came to his heart, there was no reassembly required. Beefcakes' wall-to-wall grin never wavered. And that smile proved contagious.
Longmont Humane Society
"He gets a lot of people smiling every single day," Carrie Brackenridge, marketing and communications manager at the shelter, told The Dodo in December. "That's really how he prefers things. He adores being in the company of people. We all love being around him. He just makes people happy."
In fact, Beefcakes was the only animal at the shelter to dispense with a kennel entirely - and call a staffer's office his home.
Longmont Humane Society
So you'll forgive shelter staff for acting like a protective parent when it came to sending Beefcakes off into the world. They had to be really, really sure.
In fact, Beefcakes had already been adopted once from the same shelter back in July 2015. But that family, citing a change in their circumstances, returned him.
Beefcakes was unfazed, settling back into life in his second home, where volunteers even took him along on shopping errands.
Longmont Humane Society
So when a couple offered Beefcakes a home this week, feelings were admittedly, guarded.
"Because of his history and because he is so famous, we were pretty protective of him," Rhea Moriarity, the shelter's director of training and behavior, tells The Dodo.
In fact, Moriarity personally delivered Beefcakes to his new family.
"I took him to his new home so I got to meet with his adopters and talk to them pretty extensively about his history and his needs and ... keeping in touch with us," she says. "It was a little bit bittersweet. He's probably my favorite dog ever."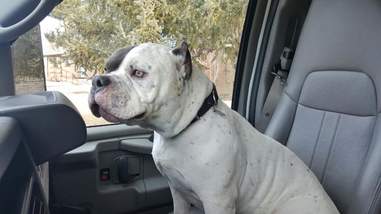 Longmont Humane Society
But it turns out, all the due diligence in the world couldn't take anything away from the perfect fit that was Beefcakes' new family.
Longmont Humane Society
"They've got some open space around them," Moriarity says. "They've got a nice big yard for him to romp around in. They often spend time up in the mountains in Colorado so they plan to take him with them."
Which suits the dog with a passion for riding in cars just fine.
Longmont Humane Society
"They're planning on taking him on hiking and mountain adventures once the weather warms up and he can go up there with them," she adds.
And he will, of course, be the only dog in the family. Just the way Beefcakes likes it.
Longmont Humane Society