Boy Lost In Mountains Is Kept Alive By A Friendly Dog
A sweet dog named Max is being credited with helping save the life of a child who was lost for nearly two days in the harsh wilderness - by refusing to leave his side until rescuers arrived.
Juan Heriberto Trevino, 14, was attending a summer camp in Mexico's Sierra Madre Oriental mountain range this week when he became separated from his group.
After wandering off in search of firewood, Trevino slipped and fell down a ravine. Though injured and disoriented, he soon realized he was not alone.
Max, whom Trevino met only a short time earlier at camp, had been accompanying the boy on his ill-fated trek. When he fell, the loyal Labrador retriever followed him down.
Unable to find his way back to camp, Trevino took shelter under a tree. Rather than leave the boy to fend for himself, Max remained.
In the frigid mountain air during the night, it was the dog's company that made all the difference.
"I grabbed [Max] and put him on my legs to not be so cold and hugged the dog," Trevino told Noticieros Televisa.
The next day, as Trevino continued to try to find his way back through the rugged terrain, Max saved him again by finding a puddle from which they both were able to quench their thirst.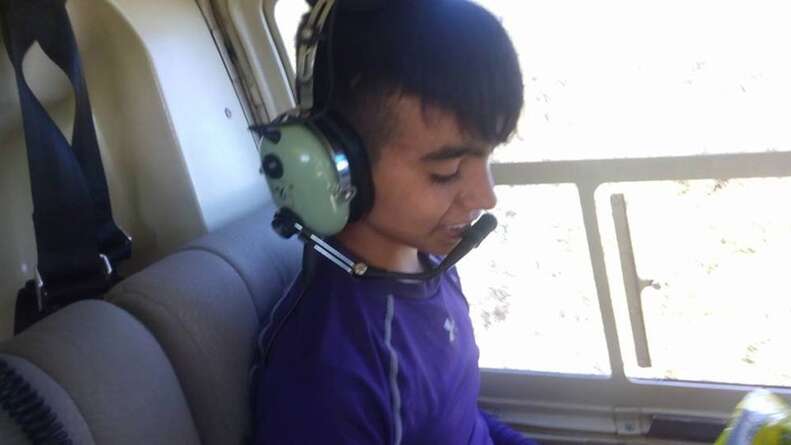 With Max's help, Trevino was able to survive long enough to be discovered by a search party air and airlifted to safety - ending their 44-hour long ordeal.
Though the story has a happy ending, authorities say that things could have ended in tragedy for Trevino if it weren't for his canine companion.
"In that part of the mountain it is very easy to get lost. In addition, it's very cold at night, as it is very high," Martin Castillo, deputy director of the local police, told reporters. "The child was lucky to find the dog."
The Trevino family, grateful to the dog who helped save their son, initially wanted to adopt Max. But, as it turns out, he already has a home with owners who live in the area - and, clearly, everyone visiting the mountainous region is better off having a hero nearby.