Trapped in a tiny wire cage, the dog watched a scene of horror unfold in front of him: Dozens of dogs were killed right in front of him. The caged dog trembled with fear - he knew he was next.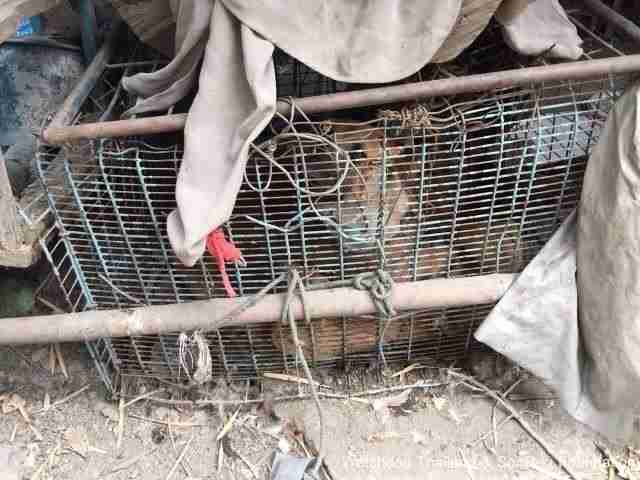 Police and investigators from Soi Dog Foundation rushed onto the butcher's property near Chiang Mai, Thailand. The police charged the butcher with animal cruelty under Thailand's newly established Animal Welfare Act, as well as illegal trading in meat under the Contagious Diseases Act. The rescuers freed the shaking dog from the cage - he was the only one left, so they named him Boonrod, which is Thai for "survivor" or "one who got away."
Boonrod's rescuers flew him to Soi Dog's rescue center on the island of Phuket. Boonrod was safe now, but he was seriously traumatized - he craved attention from the Soi Dog staff, but when people approached him, he cowered and shook.
After several weeks of rehabilitation, Boonrod learned to trust people again, and the Soi Dog team posted information about him on their Facebook page.
Thousands of miles away in Verona, Italy, Paola Tonussi stared at the Facebook post. Tonussi had never visited Thailand, but she'd actively campaigned against the dog meat trade for several years. "I immediately fell in love with Boonrod, on seeing his beautiful sad eyes," Tonussi tells The Dodo. "His story was full of meaning - tragedy and light at the end. I knew he had to come to Italy and be my own doggy."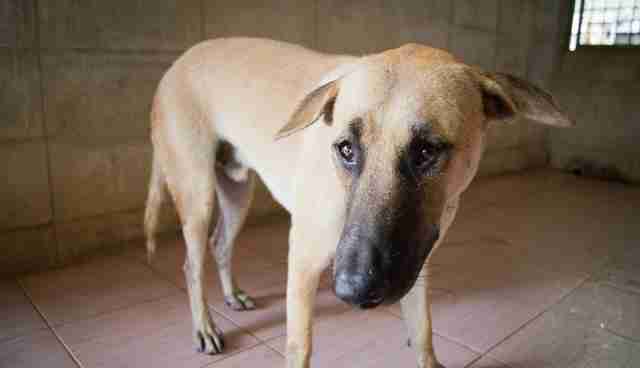 Tonussi contacted Soi Dog Foundation, asking to adopt this special pup. Delighted Boonrod would go to a good home, the Soi Dog staff made arrangements for him to fly to Italy. "When he arrived in Italy, Boonrod was very tired because of the long journey he'd had," says Tonussi. "At home, my companion Nicola and I focused on giving him all the peace he needed to settle in well. We also spoiled him a lot!"
Tonussi and her husband had two other dogs - a 15-year-old named Fala, and a 2-year-old named Sole. According to Tonussi, it took a couple weeks for Fala to accept Boonrod, but they eventually became best friends.
Besides hanging out with his doggy siblings, Boonrod loves to go for walks in Verona, snooze in his dog bed after meals, and bask in the sun - even when it's 90 degrees outside. "I think Boonrod is a very happy and serene creature now, and he gives back wonders to us," says Tonussi. "He is such a good and meek doggy that everybody who meets him can't help but love him."
Tonussi, a writer, even wrote a novel entitled "Boonrod," which tells the story of Boonrod's past. "This unfortunate but in the end lucky dog now had a future and I have wished to give him a past," she says. "Of course it is a novel and the facts in it are the fruit of my imagination, but Boonrod the dog is a wonderful reality in my own and my companion's life."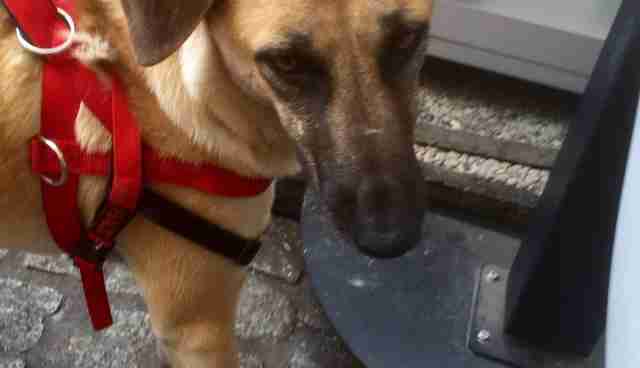 "It's impossible to conceive life without Boonrod," says Tonussi. "I have always loved dogs, and animals in general, but Boonrod is something special: He's wise, and I would say almost philosophical, as well as good-tempered and loving. He might have resented what he'd gone through, but, on the contrary, his nature is so good I think we humans can learn from him. In short, we love him to the moon and back."