Loyal Dog Has Been Returned To The Shelter Three Times
"I am so taken by his sweetness and adoration. When this dog loves you, man, he really loves you!"
When Boudreaux ended up at the Austin Animal Center (AAC) in 2012, he was adopted shortly after arriving, and it seemed he had found his happy ending. When he was returned to the shelter, no one knew that it was only the beginning of his long struggle to find a home.
Boudreaux has now been returned to the shelter three different times. The first two times he was returned it was because his families were moving and were unable to take him with them. The third time, his new home simply wasn't the right fit for him.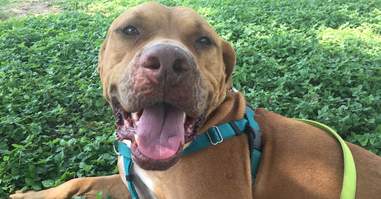 Sarah Schilling
Every time Boudreaux is returned, he is sad and confused - and so is everyone who knows him.
"Boudreaux is a really special boy," Sarah Schilling, a volunteer at the AAC, told The Dodo. "He is a very sweet and affectionate dog who is loyal and devoted to the people he knows and loves. He gets so excited when one of his friends comes to visit."
Sarah Schilling
Ninety percent of the time, all Boudreaux really wants to do is cuddle on the couch with the people he loves. He enjoys a good walk or car ride every now and then, too, but his primary goal in life seems to be to snuggle and love as much as he possibly can.
Those who have gotten to know Boudreaux are completely baffled as to why this giant love bug keeps ending up back at the shelter. Each time he's been returned has taken its toll on his mood, which makes it harder for people to see how sweet and loving he really is.
Sarah Schilling
"Boudreaux really struggles in the shelter environment," Schilling said. "Because of his stress, his kennel presence was not the best, so people passed him by time and time again. If only they could have known the true beauty of this magical boy when he is out of a high stress situation. The transformation is remarkable and I find that is true for a lot of long-stay shelter dogs."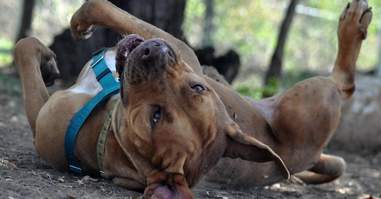 Sarah Schilling
Boudreaux even went through a program with a training group called Dogs Out Loud, where people were just as smitten with him. He is currently being fostered, but needs to find a new family as soon as possible so he doesn't have to go back to the shelter yet again.
The absolute perfect home for Boudreaux would be one with no other animals or children, as he does best in calm, low-stress environments. A quiet neighborhood and someone to love him and spend as much time with him as possible is really all this guy needs.
Sarah Schilling
"I volunteer at Austin Animal Center a lot and have met many wonderful, sweet dogs, but Boudreaux is that one that if there was any way I could make him mine I would," Schilling said. "I am so taken by his sweetness and adoration. When this dog loves you, man, he really loves you!
Sarah Schilling
If you are interested in adopting Boudreaux, you can contact Dogs Out Loud at adopt@dogsoutloud.org for more information.