Dog Survives Fire — Then Leads Rescuers To The Best Surprise
"She is one of those dogs that you know truly appreciates us saving her life and the lives of her babies."
Miracle the pit bull had been living in an abandoned factory in South Carolina when, one day, the factory caught fire. A kind passerby found her wandering around near the factory and took her to the county shelter. Staff at the shelter could see that Miracle had broken her leg somehow, and that she was producing milk - which meant that she had puppies out there somewhere.
Scared that Miracle's puppies might still be in the factory that caught fire, an animal control officer with the shelter contacted the fire department to see if she could take Miracle to look for the puppies, but was told they wouldn't be able to go back to the site for several days.
Four days after Miracle was rescued, the officer took her back to the factory - where Miracle led her to the woods and showed her where she had hidden her six babies.
It seemed that Miracle must have carried the puppies out of the factory one by one and hidden them in the woods until she could find help, which is probably how she injured her leg. The puppies waited patiently for her to return, and were so happy to see her when they were finally reunited.
"The babies were in good condition, about 5 weeks old," Victoria McGonigal, owner and director of Dóchas N Grá, told The Dodo. "Miracle had X-rays done and it was seen that her shoulder was broken and had a severe infection. They think she may have did it in the fire while moving her babies."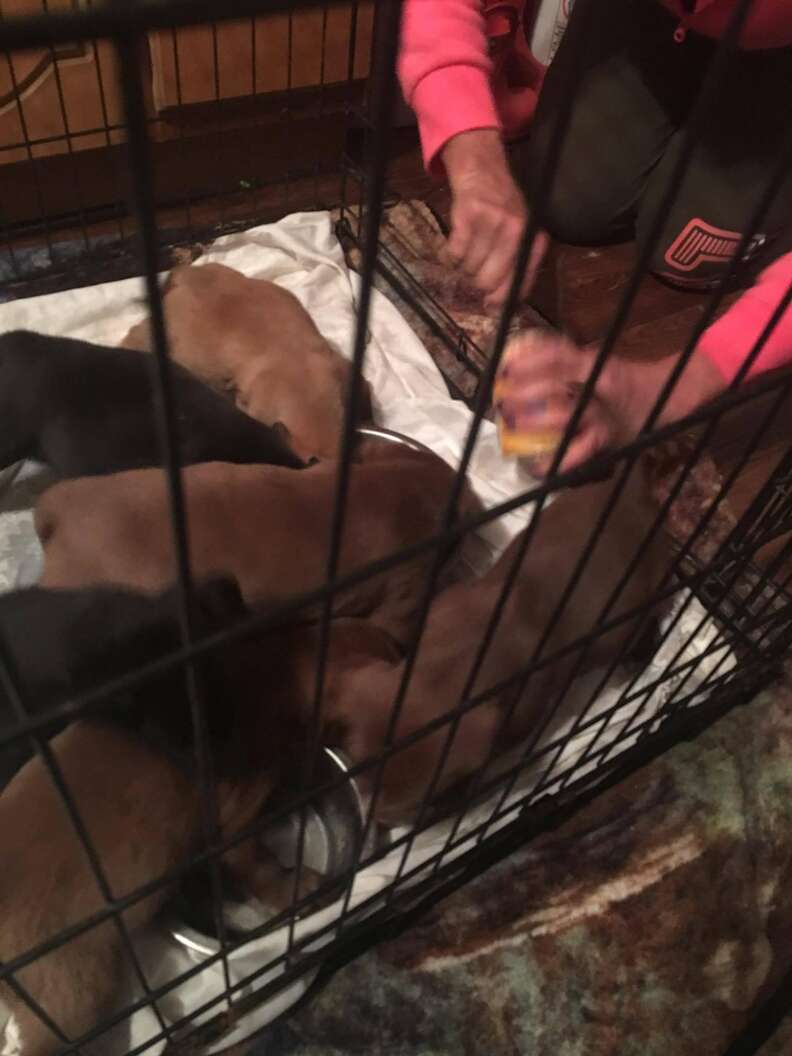 Because of the severity of her injury, Miracle had to have her leg amputated. The amputation did nothing to dampen Miracle's spirits, though, because while she may have lost her leg, she saved her babies.
"Miracle is the sweetest, most laid-back dog," McGonigal said. "She is one of those dogs that you know truly appreciates us saving her life and the lives of her babies."
After spending around four weeks with the rescue, Miracle's babies were old enough to find homes of their own, and were transferred to Happy Tails Dog Rescue, where they all quickly found their loving forever homes.
Miracle spent another eight weeks at Dóchas N Gráwhile her leg healed, and then was sent to Happy Tails Dog Rescue as well. She is currently being fostered with the intent to adopt, which means that very soon, this brave, sweet mama dog will have finally found her happy ending, too.