Dog Who Spent His Whole Life Trapped In A Chicken Coop Is Finally Free
Jag is 13 years old, and has lived most of his life inside a chicken coop in rural Maryland with 300 other dogs.
All of the dogs were in horrible condition when rescuers from Last Chance Animal Rescue found them. They had no fresh water and no access outside, and some of them were so matted that they couldn't even walk or move around at all.
Micah Larsen Brannon
Jag was estimated to be the oldest dog of the whole group, and had likely been there for a very, very long time.
Finding foster families and forever homes for all of the dogs was not an easy feat. After being confined to a cage for so long, the dogs had very fragile bones, and many of them broke their legs while jumping or playing in their new foster homes. The rescued dogs faced so many challenges, and Jag was no exception.
When Jag's foster family returned him, saying he was too difficult, it looked like Jag was out of luck - until Micah Larsen Brannon met him.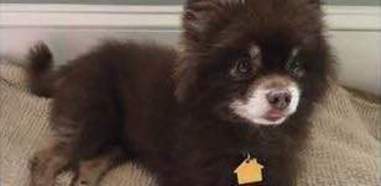 Micah Larsen Brannon
Brannon was volunteering at the rescue when Jag's foster family dropped him off, and immediately felt for the little guy. "I couldn't stand the thought of him alone in the office at night so I brought him home to foster him," Brannon told The Dodo.
Brannon already has three rescue dogs of her own at home, and so Jag fits right in with the pack. He spent most of his life surrounded by hundreds of other dogs, with little human contact, and is therefore comforted by his brothers and loves spending time with them.
Micah Larsen Brannon
"He does not understand or enjoy human contact," Brannon said. "He prefers to be around the other dogs and keep to himself. It's hard not to love on him, but we respect his personality."
A week after Jag arrived at his new foster home, he started having seizures due to brain damage he suffered in his previous life. Brannon knew that with his advanced age, his personality and the seizures, Jag would have a very hard time getting adopted - and so she decided to make him a permanent member of her family.
Micah Larsen Brannon
Now, Jag is loving his new life and all the things he missed out on while being trapped for all those years. His brothers have played a big role in helping him adjust to his new home, and are there for him every step of the way.
"He follows them and watches for cues of what to do and what not to do," Brannon said. "After 13 years he is finally figuring out how to be a dog."
Micah Larsen Brannon
Jag is a calm, quiet senior dog who doesn't want much - just a family to take care of him and plenty of space where he can relax and be himself. Finally, he has exactly that.
"He is a sweetheart who just wants to live the rest of his life surrounded by his brothers, lying in the sun," Brannon said.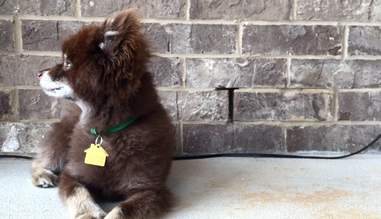 Micah Larsen Brannon
If you'd like to adopt a pet of your own, you can check out Adopt-a-Pet.com to get started.