Dog With Jump Rope Knows The Perfect Way To Make New Friends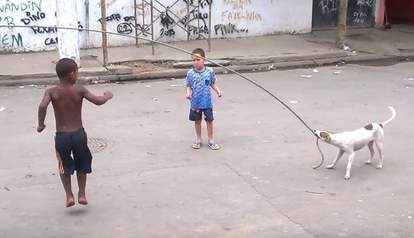 <p> Ricardo Cavalcante <span></span> </p>
Kids will be kids - but that's not to say a dog can't be a kid, too.
Ricardo Cavalcante
A group of children in a Rio de Janeiro favela, or slum, were recently spotted with a furry and surprisingly accommodating little friend. While out enjoying a day of jumping rope, the youngsters evidently enlisted the assistance of a friendly stray dog who, quite happily it seems, was kind enough to lend them a hand for their activity.
What makes the sweet scene even more charming is the fact that the kids seem to think the amicable arrangement with their canine pal is really no big deal.
Ricardo Cavalcante, who uploaded footage of the fun times to YouTube, says the dog is a beloved character in the neighborhood, and is considered to be a shared pet who is visited and fed by everyone. She's frequently seen out having a good time with the kids - though she's not always so helpful, says Cavalcante:
"Her name is Bolinha ["Little Ball"] because when the kids are in the street playing ball, she gets in the middle and hinders the game."