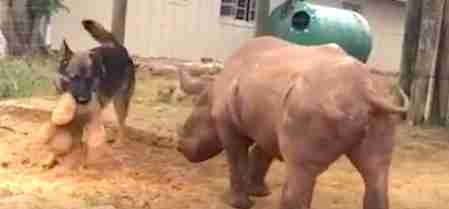 Duma seems to lead the way, tail wagging, showing Nandi that there's so much to be excited about.
And soon enough, Nandi is following bouncily along.
Now, sometimes, it's even Nandi who starts the frolicking.
This isn't the first time Duma has helped cheer up the exotic animals at the orphanage. The dog also recently befriended a sad baby elephant who'd become separated from his herd.
It goes to show dogs can be more than just man's best friend.
"Both tails wagging," one commenter observed, "although I am not sure if the rhino's wagging means the same, but it sure is cute."