Dog No One Wanted Now Models All His Favorite Clothes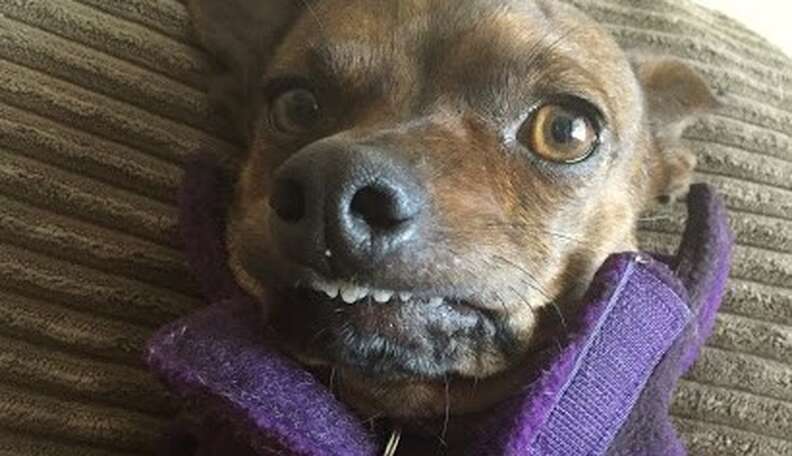 <p>Brooke Biddlecombe<span></span></p>
A local adoption event changed Brooke Biddlecombe's life when a woman handed her a dog to hold temporarily while she ran off to run an errand.
"Literally at that second I fell in love with Gus," Biddlecombe told The Dodo of the Chiweenie who was up for adoption. "I said to him, 'We're soul mates.'"
Half Chihuahua and half dachshund, Gus, who is now almost 6 years old, came from California in 2014. CaliCan Rescue in Edmonton, Alberta, Canada, works with rescue partners in California to save dogs in high-kill shelters and flies in about seven or eight dogs from central California once every month or two because of a lack of smaller dogs in local shelters.
Gus was originally found as a stray and lived in multiple shelters for an entire year before being brought to Canada. His pronounced overbite and clinginess deterred people from adopting him.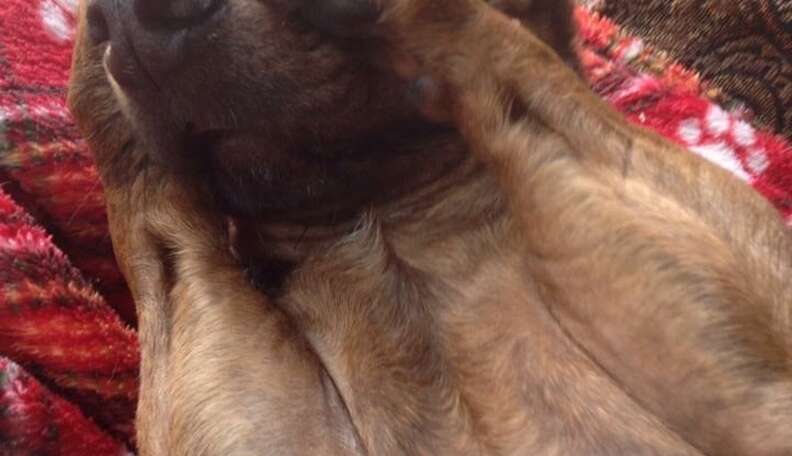 "He gets real loud when he's alone and he gets so sad," Biddlecombe said. "He's a lot better now. He has a little fuzzy blanket by the window where he can look out. I can always hear him when I get home. It's like an excited bark/scream and his tail is going."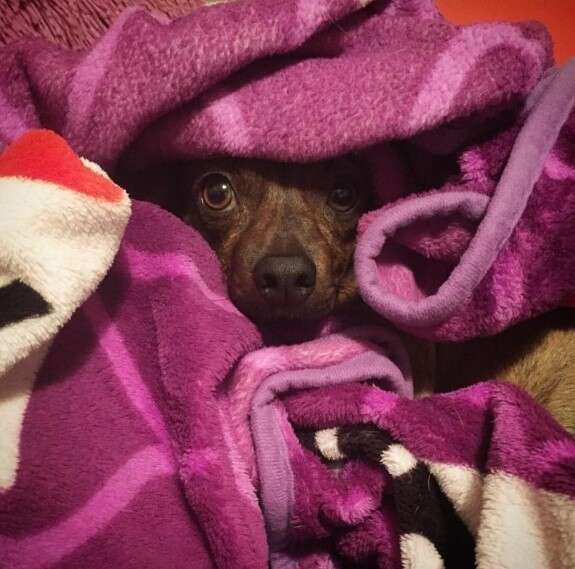 Gus is obsessed with fuzzy blankets. With eight of them spread around the house, he will curl up inside the nearest blanket and fall asleep. "His favorite right now is a 'Little Mermaid' one. He makes his little burrow, and as soon as his head is covered with the blanket he goes out like a light," Biddlecombe said.
Gus's adorable overbite does not interfere with his eating. "He's a little piglet," Biddlecombe said. "He eats so fast that it's crazy." When Gus was found he lacked back teeth; he has only front teeth.
He gets along with Biddlecombe's roommate's dog Alexa, a German shepherd mix, and enjoys chasing Presley the cat.
Immediately after Gus first arrived at his new home in Canada, there was a big snowstorm. And the 12-pound Chiweenie wanted nothing to do with the snow and cold. In order to get Gus to go outside and relieve himself, Biddlecombe had to shovel a path.
"I had to carry him out into the yard, plunk him down, and he would go and then he would walk to my feet, look up at me and wait to be picked up and be carried back inside," she said.
Along with the fuzzy blankets Gus loves so much, Biddlecombe started a wardrobe, which began with a couple of cute sweaters to keep him warm. That wardrobe continues to grow every day.
"He looked so darned cute that I couldn't help myself," Biddlecombe said of Gus in his sweaters. And that's when the clotheshorse, er, clothesdog went wild.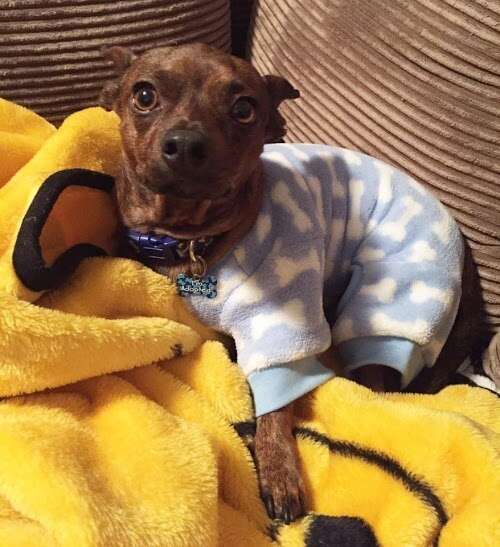 Gus goes just about everywhere with Biddlecombe. "Everyone at the bank really likes him," she said. The well-behaved Chiweenie prefers to sit in her arms, showing off his outfit while looking around at anything and everything.
His latest wardrobe addition is this T-shirt that says bodyguard: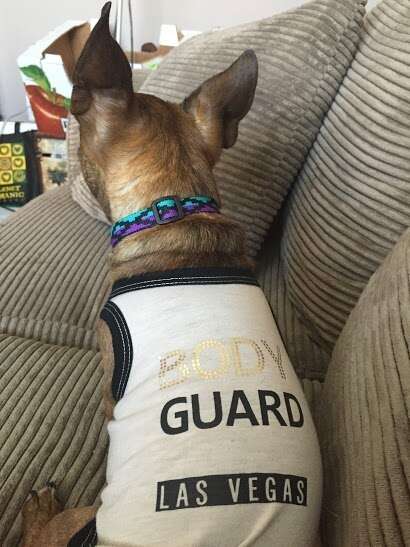 Gus actually allowed Biddlecombe to place a blonde wig (from her old Build-a-Bear collection) on him. "He just sat on the couch with it on his head," she said.
And this winter he had a brand-new coat.
Holidays are great because Gus gets to wear silly Christmas sweaters, such as this gift from Biddlecombe's mother.
Gus may not have a favorite outfit, but Biddlecombe especially loves him in his little gray sweater with a hood. It has a little skull and crossbones on it. "He looks very badass," she said.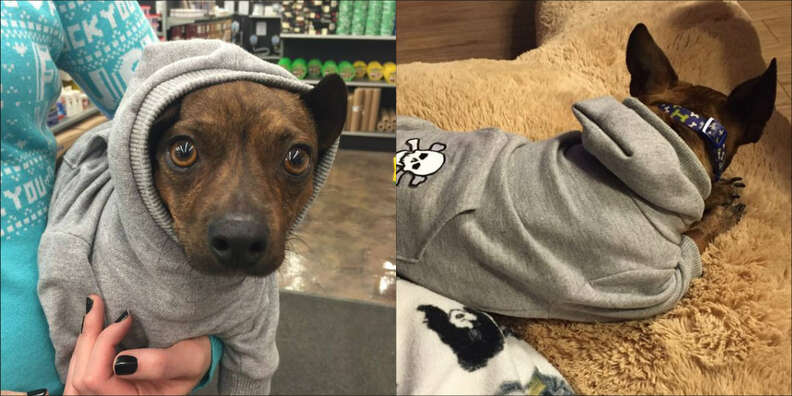 Even at the mall, Gus gets the royal treatment. As he said on Instagram: "Mama took me to the mall and carried me around in a baby carrier. I am so about this life."
His favorite color is blue, or at least that's what Biddlecombe thinks makes Gus look best.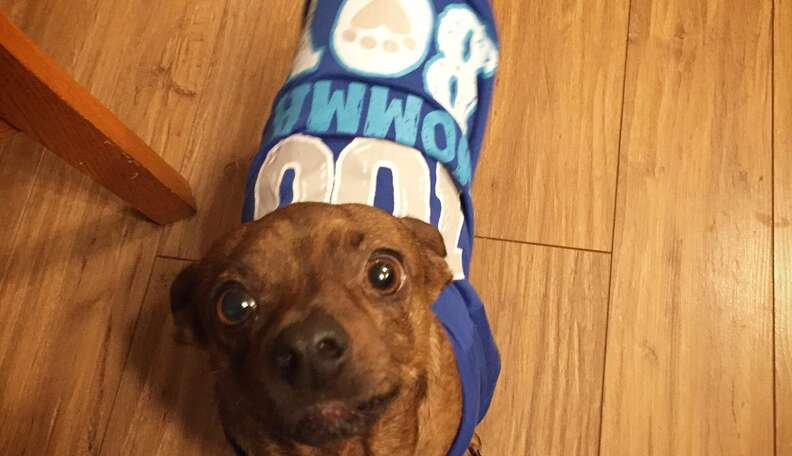 Halloween is an important time of the year for the pair, and Biddlecombe has already started planning on their joint costume, but she won't say what it is.
Although Biddlecombe enjoys dressing up Gus, who apparently goes with the flow in his stylish outfits, the most important thing is that the former shelter dog whom no one wanted is now very loved.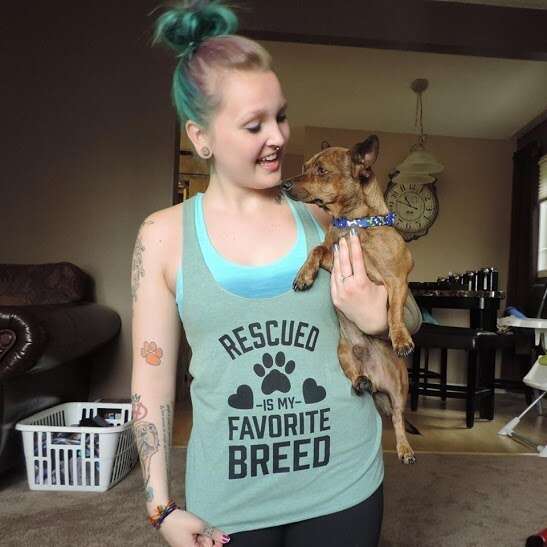 "If you asked anyone who knows me, they would say he is spoiled beyond belief," Biddlecombe said. "He had three presumably very hard years of life, so he deserves every fuzzy blanket, every squeaky toy, every little sweater and every spoonful of peanut butter he could ever want. Every rescue dog deserves that."
If you would like to help CaliCan Rescue, consider donating here.
Watch Gus figure out how to walk in his new red winter boots:
He hates when you stop rubbing his belly:
There's nothing like unwrapping a new toy: