Dog Receives Rare 7-Hour Open-Heart Surgery To Save His Life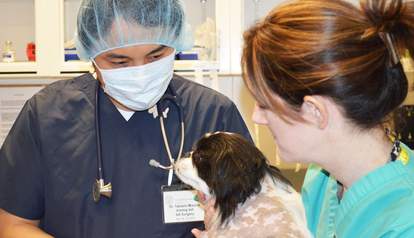 <p>Cornell University College of Veterinary Medicine</p>
When a 15-pound Japanese Chin named Esme was diagnosed with a fatal heart condition last April, veterinarians told her owner, Dylan Raskin, that he had just a few more months to live. The condition, known as mitral valve regurgitation, was causing a backflow of blood in the dog's heart chambers. Raskin was devastated.
"It's no different than any parent with a human child," he told the Ithaca Journal back in October. Raskin rescued the dog on the streets of New York City seven years ago. "I love him with all my heart; if I could cut my heart out and stick it in his chest, I'd do it in a New York minute."
To afford the $30,000 surgery, Raskin sold his car and created a fundraising site, which received an outpouring of support.
Much of the cost went to getting a specialized team of five Japanese doctors, who were flown in for the event. Esme received a seven-hour open-heart surgery at Cornell's Hospital for Animals. The complex surgery, which involves using a bypass pump to keep an animal alive, is rarely done in the U.S., and even more rarely performed on small dogs.
"There aren't any places that do this routinely; that's the biggest hurdle," Dr. James Flanders, associate professor of surgery at the Cornell University's College of Veterinary Medicine, said in a statement. "This Japanese team has been doing this surgery for the last 10 years and have a very high success rate."
Now, Esme's heart is stronger than ever, thanks to a dedicated team of vets - and a very dedicated owner.