Dog Loves Going On Motorcycle Rides With His Veteran Dad
"With my PTSD, I don't do well in crowds and with unfamiliar people and places. She watches my back."
When the crowds got to be too much for Keith Campeau, he had a friend to take him away from it all: his motorcycle.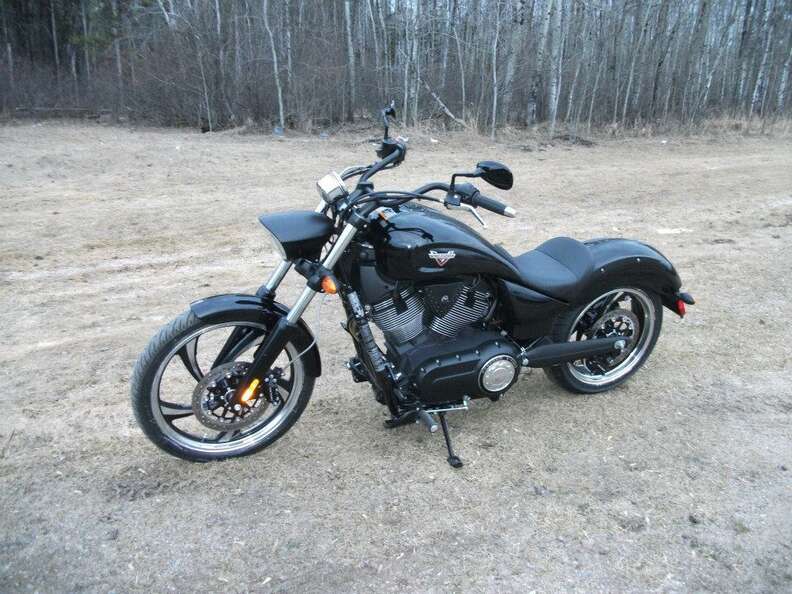 Campeau would get on the open road in Edmonton, Alberta, and feel the sanity-saving grace of being alone. It's been like that ever since the Canadian soldier came back from a tour of duty in Afghanistan in 2011 with a crippling case of post-traumatic stress disorder (PTSD).
Crowds made him painfully anxious.
"When I first got back, that was my one escape - to jump on the bike and take a ride when I was getting out of hand," Campeau tells The Dodo. "That was a kind of self-induced therapy."
But the motorcycle couldn't always be there for him. And the crowds - on busy sidewalks and in teeming malls - never seemed too far behind.
"It was like World War 3 every night getting home from work," he explains. "When I went out in public, I started bumping into people. In crowded areas, I started knocking people over."
A psychologist recommended Campeau find another friend: a dog.
That's where Flo came in. But first, the tiny border collie needed her own kind of rescue. Campeau and his wife, Sandra, found her online. Someone had accidentally produced a massive litter and was looking to find homes for 26 puppies.
The couple took Flo home.
"She's been by my side ever since," Campeau says.
When Flo was old enough, Campeau brought her to Courageous Companions, an organization that trains service dogs for veterans.
And Flo is proving an apt student, currently in need of just a little more training from Courageous Canines before she can be officially certified as a MSAR service dog.
But she's already gotten to work on saving Campeau from those dreaded crowds.
"She keeps me grounded out in public," Campeau explains. "With my PTSD, I don't do well in crowds and with unfamiliar people and places. If there's someone coming around - this could be someone walking past me from behind - she lets me know there's someone coming.
"She watches my back."
It was only a matter of time before Campeau introduced his dog to his other saving grace.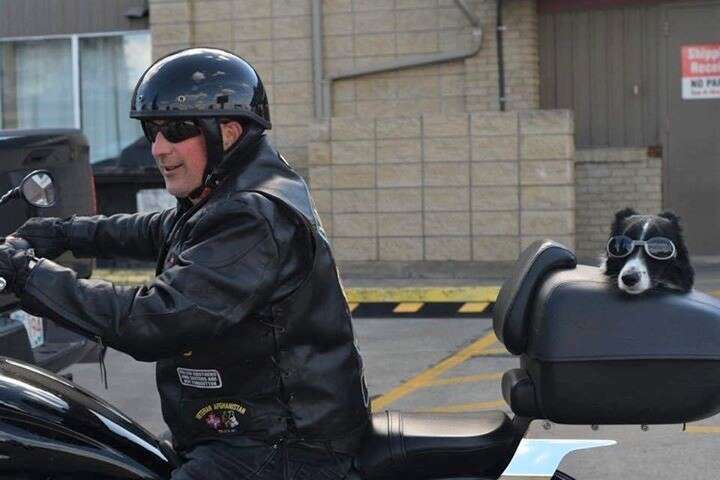 "When I started training with Flo, I thought, 'Well, I can't take one of my loves away for the other,'" he explains. "So I incorporated the saddle bags and had the trunk modified. Now, wherever I go, she goes, whether it's summer or winter."
That's when this family truly found its flow.
Flo has helped Campeau keep his social anxiety in check, mostly through alerting him of people nearby.
"She pulls on her leash and will go around to the opposite side of me and do whatever it takes to get my attention - 'Hey there's someone coming. Pay attention,'" Campeau explains.
"My temperament has come down. She sees me not normal and she's right on me."
And, when things get really hairy, there's also a certain bike built for two.
"She loves it," Campeau says. "In the spring, I don't know who's happier, me or her."
Want to support Courageous Companions in its mission to give veterans service dogs free of charge? Consider making a donation.