Dog With Nose And Ears Cut Off Still Trusts People After All He's Been Through
"He greatly enjoys playing fetch with tennis balls and toys, and enjoys being in the company of his human friends."
Baron the dog was found wandering the streets of Detroit in January. While seeing a stray or abandoned dog is sad, it isn't usually a shocking sight - except that Baron was missing his nose and both his ears.
A concerned passerby saw the condition that Baron was in and managed to coax him into his truck to help him get the care he needed. He contacted the Michigan Humane Society through its emergency line, and waited with Baron while staffers from the shelter rushed to come and take him in.
Michigan Humane Society
A vet immediately examined Baron, and determined that someone had cruelly cut off his nose and ears somehow, for no apparent reason. The sweet 8-year-old Rottweiler mix also had injuries to his hind legs and tail, and was extremely malnourished.
Baron's injuries were incredibly extensive, and the shelter determined that he would need surgery in order to live a normal life. In the meantime, Baron settled into his new life at the shelter, and shocked and delighted everyone with how loving and gentle he is.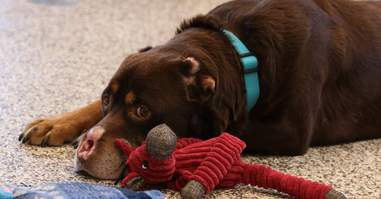 Michigan Humane Society
"Baron is a sweet dog, particularly in light of everything he has been through," Anna Chrisman, public relations coordinator at the Michigan Humane Society, told The Dodo. "He greatly enjoys playing fetch with tennis balls and toys, and enjoys being in the company of his human friends. He also enjoys being pet and scratched, and will sit quietly next to you when he is done playing."
Michigan Humane Society
Despite everything he's been through and all the abuse he's suffered, Baron just wants to be loved, and give back as much love as he can in return.
Finally, the day came for Baron's surgery. He ended up needing two different operations.
"The first surgery was to repair his nose," Chrisman told The Dodo. "That procedure involved using Baron's own tissue to cover over the large exposed area around his nose, leaving a smaller space for air and moisture to pass through. The second surgery was to Baron's tail, which required amputation due to the previous injuries he suffered."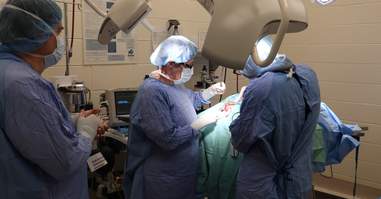 Michigan Humane Society
The surgeries went extremely well, and Baron did wonderfully throughout the entire ordeal. He is recovering nicely, but still has a long way to go before he'll be ready for adoption. He's so much happier and healthier now, though, and will wait with the shelter staff he's grown to love until the day when he finally finds a loving forever family of his own.
Michigan Humane Society
A $40,000 reward is being offered to anyone with information leading to the arrest of whoever harmed Baron. If you have any information, you can contact the Michigan Humane Society Cruelty Investigation Department at 313-872-3401.