Dog Who Ran Away After Car Crash Finally Reunites With Her Mom
"When I saw her with the officer I immediately broke down in tears."
Sirena Cartmell was driving to work one morning with four of her dogs in the car when she got into a car accident. It spooked her dogs so much that one of them accidentally ran away.
Cartmell and her fiancé had plans to go away that weekend, and she was bringing her dogs to work with her at the Gadsden Animal Clinic because she was planning on having them boarded for the weekend. The group was only about 15 minutes away from their destination when a car abruptly pulled out in front of them, causing the accident.
Cartmell immediately rushed to make sure all of her dogs were OK, as they were clearly a little shaken up - and little Ness was in such a panic that she leapt out of the car.
"As soon as it happened I opened the door once we'd stopped, and Ness jumped out," Cartmell told The Dodo. "I immediately jumped out running after her."
Cartmell continued to chase Ness until she noticed that a man who'd seen the crash was also chasing after her, trying to help, and since he seemed much faster than herself, Cartmell went back to the car to make sure her other dogs hadn't gotten out. Unfortunately, though, the man wasn't able to catch up with Ness, and she disappeared completely.
Cartmell and her community searched for Ness tirelessly over the next few days, refusing to give up. They made fliers and social media posts, and did everything they could possibly think of to try and bring Ness home. Even people who had never met Cartmell or Ness were dedicated to reuniting them again. The dispatchers who'd taken the call from the car crash take calls involving animals very seriously, and even they went out looking for Ness themselves.
"There were so many people out looking for her it still blows my mind," Cartmell said. "Between my boss and coworkers to clients at the clinic to people who didn't even know me but had heard her story."
Cartmell first met Ness when the pup was just 6 weeks old, when she, her mom, her siblings and another dog were brought into the vet clinic where Cartmell worked after their owner passed away from a car accident. The person who brought them in intended to have them all put down, but Cartmell and her coworkers pleaded to find them homes instead, and Cartmell ended up deciding to adopt Ness herself. She and Ness had been together for nine years, and she refused to believe that this was how their story ended.
Finally, after days of searching with no results, Cartmell got a call that changed her life.
One of the dispatchers called Cartmell early one morning and said that someone had spotted Ness, but she was pretty terrified and the officer on the scene was having trouble catching her.
"I asked them to buy her a cheeseburger or something - she loves scrap food - and I'd pay them back and be there in the hour," Cartmell said. "She called me back maybe two minutes later and said they had her. It took a lot to hold back my emotion until I knew it was her, so I asked her to send me a picture. When I saw her with the officer I immediately broke down in tears."
Cartmell rushed down to the police station, and was finally reunited with her beloved Ness once again. Ness was a little shaken up from the whole ordeal, but was so happy to see her mom again. Ness is now back home and doing great, and she and her whole family are so grateful to everyone who kept looking and never gave up hope that eventually, they would find her.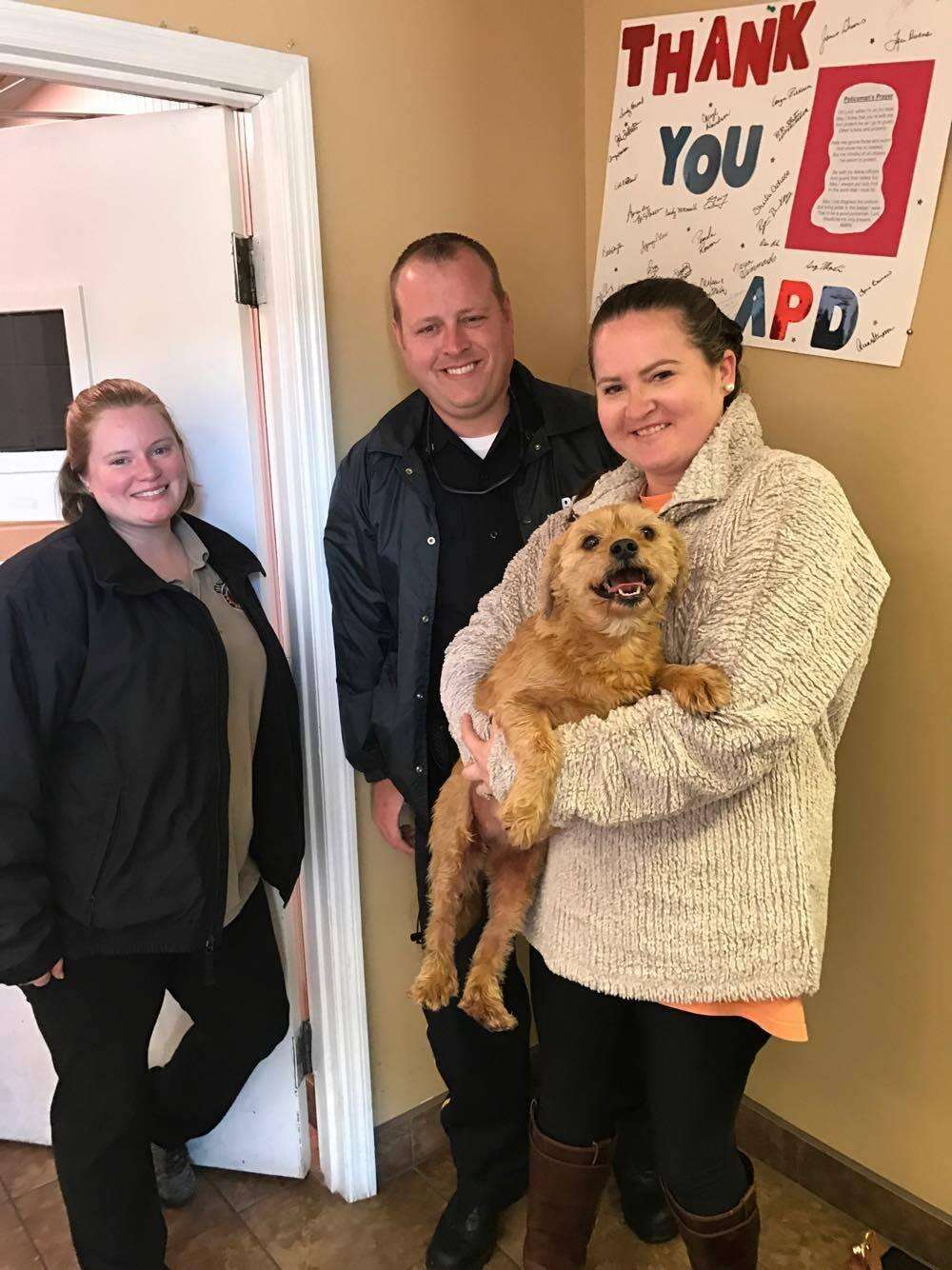 "If it wouldn't have been for all the people helping us look, sharing the Facebook post, handing out fliers, I'm afraid we never would have found her," Cartmell said. "It was a long weekend but the outcome, I couldn't have asked for more."