Your Dog's Matted Hair Isn't Just Uncomfortable, It's Dangerous
<p> <a href="http://www.dirtydogsgallery.com/">DirtyDogs</a><span></span> </p>
<p> <a href="http://www.dirtydogsgallery.com/">DirtyDogs</a><span></span> </p>
We've all woken up with varying degrees of bed head, but when you're a dog, messy hair can mean something much worse than just a bad hair day.
Matted hair is a painful condition most commonly seen in dogs and cats with long coats. The condition is caused by tangled knots, or "mats," which cause discomfort and even lead to health risks.
Earlier this month The Dodo told the story of a Amaze-Bobb, a dog with an extreme case of matted hair. Homeless for the first ten years of his life, Amaze-Bobb had such badly matted hair that his rescuers needed to amputate two of his legs.
Here's Amaze-Bobb when he first arrived at Synergy, a rescue, rehab and sanctuary for special needs animals in San Diego.
Since then, he's made an amazing recovery and learned to walk with only two legs.
Amaze-Bobb's story ends with a big backyard, a loving family and a newfound love of life. But that's not always the case for dogs with matted hair.
We wanted to learn more about the dangers of matted hair, so we spoke with Dr. Rob Proietto, a New York City veterinarian, about what other health concerns can arise from matted hair. He confirmed that in addition to causing discomfort, these knots can become some serious problems for dogs. "They can also cause bacterial infections as they trap moisture and cause damage to the skin."
He reflected on the "horrific" cases he has seen in his practice. "Some of the worst ones are over the rectum as the hair can get matted and trap feces, which can cause an impaction and severe skin infection," he said.
Sometimes the affected area can become so infected that surgery is needed to remove dead skin cells. That's truly terrible for a dog.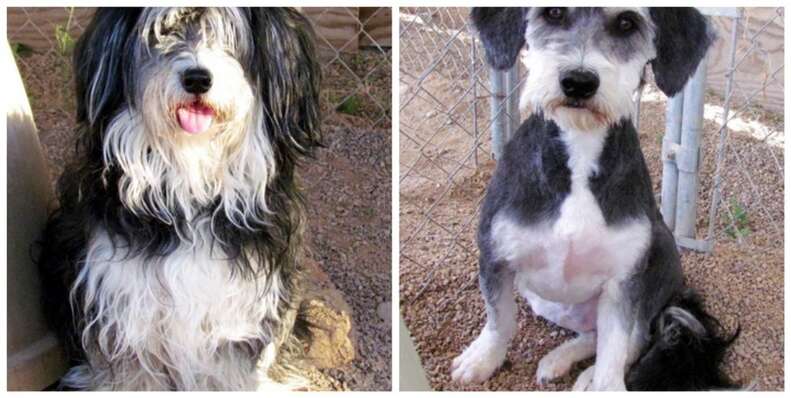 This illness can be easily avoided. According to Proietto, mat-prevention is fairly simple: a simple groom once a day. "I like the Furminator as it does a good job of removing the hair as it turn[s] over in its natural cycle," Proietto noted. "But any brush or comb will work."
For anyone who needs yet another excuse to spend time with their dog, combing him isn't just a doting way to say, "I love you." It also protects him from potential disaster.