Dog's Fur Was So Matted He Couldn't Even See Who Abandoned Him
When Pudding was dumped in the rain on Christmas Eve, his coat was so matted and tangled that he couldn't see - meaning he could only feel someone dropping him off on the road and leaving him behind.
RSPCA
RSPCA
Pudding was found by a concerned passerby on his way to work at 6:30 a.m. in Plymouth, England, tied up and left alone in the pouring rain. His coat was in such horrible condition that it was impossible to know what kind of dog he was. He was just a big ball of tangled fur, waiting for someone to rescue him.
Inspector Sarah Morris of the RSPCA was the first to come to Pudding's aid after the passerby called for help, and she couldn't believe her eyes. "The state Pudding was in when I first saw him was so sad, but it also made me so angry that someone had neglected him so much already, just to dump him on Christmas Eve," Morris said in a press release. "He was soaking wet. We had torrential rain during the night and he had just been left out in it, tied up. I felt so sorry for this poor little chap."
RSPCA
RSPCA
Pudding was also covered in fleas and had overgrown nails. No one had taken care of the pup in a long, long time - but on Christmas Eve, he was finally able to feel safe again.
RSPCA
RSPCA
Pudding was taken to the vet right away, where his prison of fur was finally shaved off of him. Once his body had been freed, he was determined to be a 6- or 7-year-old shih tzu mix. "I took him straight to a vet who gave him a body score of three-and-a-half out of 10, so he was very thin," Morris said. Pudding didn't have a microchip.
RSPCA
RSPCA
Thanks to hope and holiday spirit, Pudding was saved from the pouring rain and given a warm place to wait for a loving forever home of his own - just in time for Christmas.
RSPCA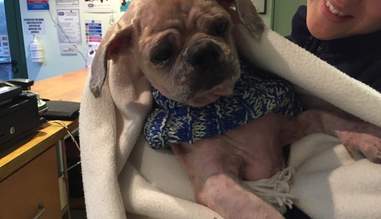 RSPCA
Anyone with information about who dumped Pudding can call RSPCA inspector Sarah Morris at 0300-123-8018.
To add a pet to your family, check out Adopt-a-Pet.com to get started.