Dog Missing His Fur Loves Borrowing His Favorite Cat's Bed
It's so tiny and makes him feel safe.
When Bubba arrived from the animal shelter, everyone at his new foster home came out to say hello.
Sacramento SPCA
There was the other family dog, his new human mom - and even Mandy, the orange house cat, who usually isn't into that sort of thing.
Melissa Roberts
Bubba repaid the kindness by promptly stealing the cat's bed.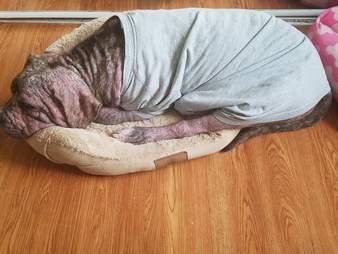 Melissa Roberts
But no one held it against the 9-month-old puppy. After all, he had been through so much already. Bubba's family surrendered him to the Sacramento SPCA late last month, claiming they couldn't afford his medical bills. Bubba suffers from demodectic mange, a skin condition that leaves his skin irritated and unable to grow fur.
Sacramento SPCA
No one's quite sure why Bubba is so into cat beds, even after his foster mom built him a special space complete with a bed that actually fits.
Maybe it somehow soothes his painfully itchy skin.
Maybe the extraordinary snugness of an overly tiny bed makes him feel safe - even if half his body spills out into the floor.
"Who knows? Maybe he thinks he's all the way in it and not realizing that half of his body is on the floor," Sarah Varanini, foster care coordinator at the Sacramento SPCA, tells The Dodo.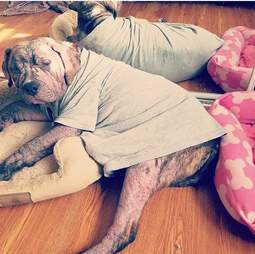 Melissa Roberts
What everyone knows for sure is that Bubba has earned the right to be comfortable.
But it will take a while for Bubba to be fully comfortable in his own skin. He still has a long road ahead of him. The mange, along with a secondary skin infection, will likely still take months to completely clear up.
"It's going to be a lengthy process," Varanini says. "It's pretty generalized. It's kind of all over him. We're expecting treatment to take at least two months, if not longer."
"Once we get him all better, we'll be able to adopt him out."
Until then, he's on a strict treatment regimen that includes medicated baths. But through it all, Bubba never stopped being his sweet self.
"He was sweet here in the shelter. Obviously, his skin didn't feel that great. So he was pretty quiet and slept a lot," Varanini says.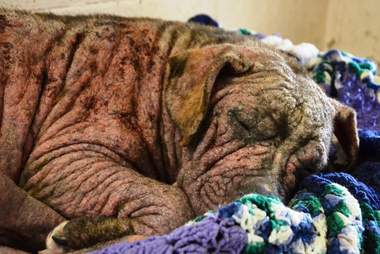 Sacramento SPCA
And with his new family, aside from stealing the cat's bed, his manners are exemplary.
"He's really well-behaved," Varanini says. "He's totally house-trained which is kind of a bonus. We wouldn't expect that with a younger dog."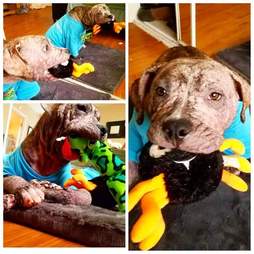 Melissa Roberts
Bubba even learned to wait patiently outside the kitchen while his mom is cooking.
Melissa Roberts
"And he's fine with the cat," Varanini adds.
The cat, for her part, seems okay with Bubba too.
After all, everyone deserves to have a sweet spot to call their own. Even if it isn't technically their own.
Melissa Roberts